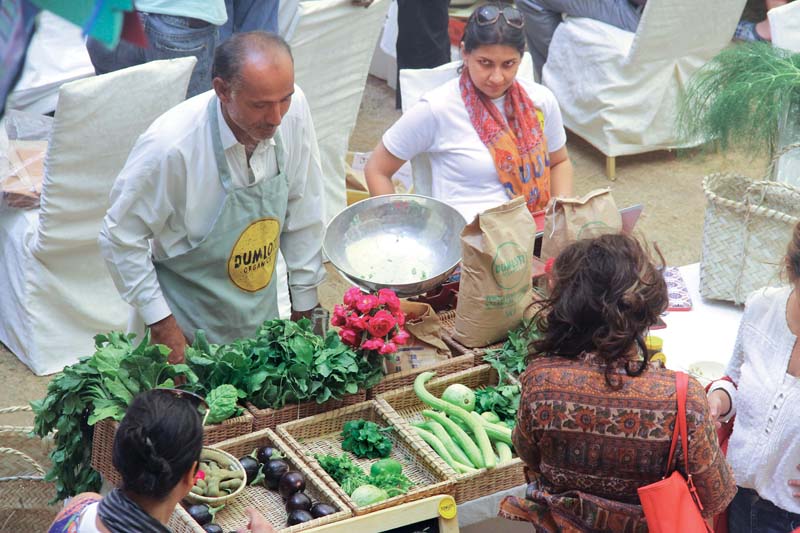 ---
KARACHI: Every Sunday morning as the rest of the city slumbers after a long week of work and stress, a few hardy souls determined to make sure their families consume healthy, organic produce head to the Karachi Farmers Market.

Be it fresh vegetables, farm eggs, varieties of honey, plants, sherbet, bread or milk, the market has it all. Comprising around 20 stalls, the farmers market is held every Sunday morning at Haque Academy in Defence Housing Authority. A venture begun by a group of friends who farmed their produce at home and wished to switch to greener alternatives, the market is a two-way street for both vendors and consumers.

Healthy living: Farmers markets come to Pakistan




"It's a serious business we do and it's not just a festival or mela that is put up every Sunday," said Sarah Nasiruddin, one of the organisers, while speaking to The Express Tribune. Sharing the idea behind the whole setup, Nasiruddin said that with regards to healthy food, it is about going back to the roots. "Organic and less use of preservatives is a relatively newer concept; it's about going back to the ways of our ancestors, like the use of gobar as fertiliser. It's about cleaning your food chain," she explained.

Apart from a stall for chai and paratha, which serves as a quick breakfast, all other stalls had items on display to be tasted, scrutinised and bought. One such stall was that of Maria Mohammad, who was quick to serve her customers rose honey saffron sherbet, jams and ten different varieties of pure honey. "These are the recipes of my mother. She used to add preservatives, while I have improvised and add no additives at all," she said, going into detail about how one has to be careful with the temperature of honey when it is being extracted from the beehive.

While some people huddled in front of stalls, being briefed by the vendors about the benefits of fresh produce, others were being served small glassed of cow's milk while live music echoed in the background. Talking about the benefits of opting for cow milk over buffalo milk, salesperson Talha Bin Rizwan said the latter contains more than seven per cent fat, while cow milk contains only three per cent fat. "It's almost a difference of half," he explained, delving into the details of how even the presence of inorganic feed for cows and buffaloes can change the nature of an organic product into inorganic.

"Initially, we were interested in selling our produce in stores but the reality is that they are not interested," said Rabia, another organiser whose Sungold stall sells organic vegetables and chicken.  "This doesn't happen without the help of a middle man who takes 25% of the share, to be divided between the store and him," she explained. "For now, we are in this school and it has helped us spread the word around."

Published in The Express Tribune, April 18th,  2016.
COMMENTS
Comments are moderated and generally will be posted if they are on-topic and not abusive.
For more information, please see our Comments FAQ