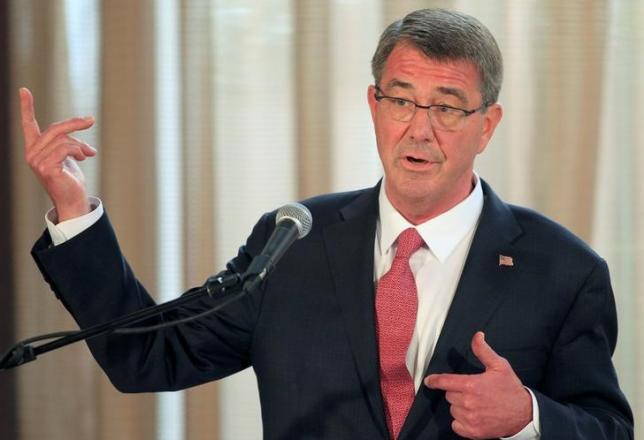 ---
AL DHAFRA AIR BASE, UNITED ARAB EMIRATES: US Defense Secretary Ash Carter said on Saturday he would ask Gulf states next week to contribute to efforts to rebuild parts of Iraq devastated by the fight against Islamic State.

Carter spoke at the start of a regional trip during which he will meet leaders of Saudi Arabia and other US allies in the Gulf to discuss the battle against the militant group and other defense issues, such as Iranian actions in the region.

Iraq forces cast ballots ahead of provincial polls

President Barack Obama will also attend the summit of the Gulf Cooperation Council, and will meet with King Salman in Saudi Arabia.

Islamic State, also known as ISIL, has seized large portions of Iraq and Syria since 2014. Iraqi forces have won back some of the territory, such as the provincial capital of Ramadi, but often after long battles that have left the cities destroyed.

"For the defeat of ISIL to stick in Iraq and Syria, these badly broken places destroyed by ISIL, pillaged by ISIL, mistreated by ISIL, are going to need to be rebuilt," Carter said, adding that a global oil price slump was hampering Iraq's reconstruction efforts.

Iraq will need economic, political, and military help to recover, Carter said.

Iraq political dispute leads to gunfire at TV station

"Even as we're looking to make contributions in all three of those areas, so also can the Gulf partners, and we'll want to talk to them about that," he said.

Saudi Arabia, the United Arab Emirates, Bahrain and other Sunni Gulf states are also major oil producers that have faced financial pressure because of low crude prices.

Carter added that Washington was looking for ways to intensify its push against Islamic State, which includes air strikes, US special forces and a strategy to target the group's extensive finances, which it earns from illicit oil sales, taxation in areas it controls and other methods.

"You should expect to see us doing more," Carter said, speaking at Al Dhafra Air Base in the United Arab Emirates, which hosts about 3,500 US troops as well as fighter and reconnaissance aircraft used against Islamic State.

Hundreds more US troops in Iraq than previously stated: Pentagon

Chairman of the Joint Chiefs of Staff Joe Dunford said in March that he expected to increase the level of US forces in Iraq from the current 3,800.

The extra troops would bolster the capabilities of Iraqi forces preparing for a major offensive against Islamic State in Mosul.