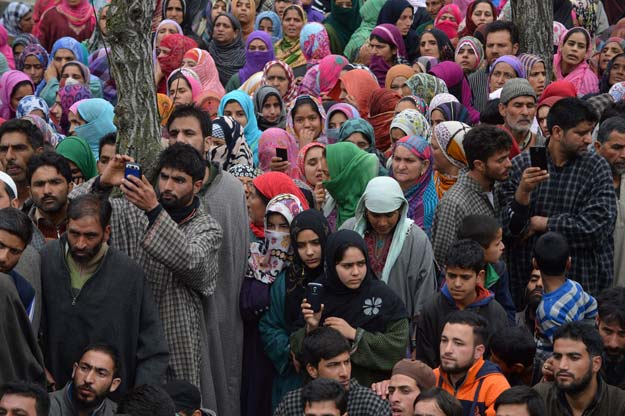 ---
KAKAPORA, INDIA: In a graveyard at his school in Indian-held Kashmir, principal Ghulam Ahmed Bhat stares sadly at a mound of freshly dug earth after another former pupil was killed in the region's conflict.

University student Shaista Hameed was caught in crossfire during a gunbattle between soldiers and militants in February, after she joined scores of residents who poured onto the streets to help the rebels escape.

Senior police officers say locals' efforts to help militants -- by putting themselves in harm's way -- is a worrying recent development in the decades-long insurgency in the disputed Himalayan territory.

Protester killed in fresh clashes in Indian-held Kashmir

"She had been one of the brightest students of the school," Bhat said of the 22-year-old, whose grave is adorned with flowers in Kakapora town in the Kashmir Valley.

Hundreds of mainly angry youth have converged in recent months on the scene of gunbattles that regularly erupt between government forces and militants opposed to Indian rule of the Muslim-majority region.

Often pelting stones and hurling abuse, they attempt to distract security forces to help trapped rebels escape their cordon. In several instances they have succeeded, security officials say. Three people including Hameed have been killed and scores injured.

"It becomes an extremely difficult task dealing with humongous mobs turning up during our counter-insurgency operations," Nalin Prabhat, inspector general of the paramilitary Central Reserve Police Force, told AFP.

"They try to take away our actual focus at hand which is to neutralise the terrorists."

Indian forces have been battling militants wanting independence or a merger of the territory with Pakistan since an armed insurgency erupted in 1989. Tens of thousands of people, mainly civilians, have been killed.

Violence has sharply declined in recent years following a major crackdown by the hundreds of thousands of forces deployed in the region. But mass protests were staged in 2008 through 2010 against Indian rule.

Today, about 200 militants, mostly locals, are active across Indian-held Kashmir, down from several thousand in the 1990s, according to security officials.

A recent uptick in militant attacks has galvanised frustrated young Kashmiris, many of whom deeply resent the military's presence, and regularly hear allegations of rights abuses and repression, political historian Siddiq Wahid said.

"How can we forget what has been done to generations of Kashmiri people?" said a student in Kakapora taking part in the street actions.

Last Tuesday, angry residents in northern Handwara stormed an army bunker after a soldier was accused of molesting a local girl.

Sexual warfare in Indian Kashmir

Soldiers fired into the crowd, leaving three people dead, while two others have been killed in protests against the firing in recent days.
Bhat said it is difficult to stop his former students taking part in the distraction efforts or even joining the militants' ranks. Three ex-students turned rebels are also buried in the graveyard on the school's grounds.

"The militants may be underground but everyone knows who they are. They (locals) identify with them and their cause. They choose to be a part of fighting all this (through street action)," he said.

In March, a group of nine heavily armed rebels were trapped in an open field not far from Kakapora as troops moved in. Hundreds of villagers armed with stones descended on the field, as word quickly spread.

"Yes, it is a huge new challenge," Prabhat said, confirming the incident.

He said residents' efforts to thwart security operations were being orchestrated by "stooges and agents of Pakistan".

Government forces have been forced to change their counter-insurgency operations, becoming even more clandestine, to avoid tipping off villagers and causing civilian casualties, he added.

"We are now having to fight two-way battles, with the armed militants on one hand and fearless mobs on the other," another senior police officer told AFP on condition of anonymity.

A month before the March incident, police and the army ordered residents within a two-kilometre radius to stay indoors during gun battles.

On the day Hameed died, local rebel Adil Ashraf was killed in the gunfight.

"My sons left home to safeguard their self-respect and fight for the nation," Ashraf's mother Rafiqa, whose second son is also a militant, told AFP.

"Stones are the people's weapon," she said, referring proudly to the support her sons have received from locals.