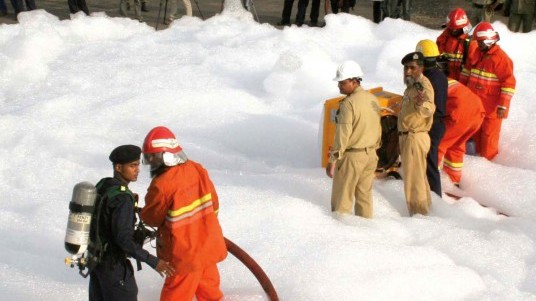 ---
KARACHI/HYDERABAD: A fiery battle raged between rising flames and frothing foam at the Expo Centre, Karachi as the city's firefighters showed off their skills and equipment.

The international firefighters and rescue worker's day was celebrated with a walk from Civic Centre to Expo Centre. Around 300 firefighters were joined by IT minister Raza Haroon, nongovernment organisations and scores of schoolchildren as they held a ceremony to pay tribute to firefighters who have lost their lives in the line of duty.

According to chief fire officer, Ehtishamuddin, 23 men have died in Karachi during rescue work from 1955 to 2008. "We called the families of the firemen who have been martyred," said Ehtisham, "They were the guests of honour." The demonstration showed off various equipment that is used in firefighting and other rescue work, including machines that can cut through debris and help save people caught beneath heavy structures.

"We have a lot of modern equipment," said Naeem Yousuf, deputy fire officer and rescue work leader, "But you can never be satisfied with the level of resources. There is always room for improvement." Yousuf explained that fires are categorised into three types. Category one fires include small ones that a single station can handle, while the second category fires require the efforts of four to five stations and the catastrophes that fall in the last group are dealt with the help of the entire city's fire stations.

"The most common fires are those caused by short-circuits," he said, adding that the last time the city's entire department was needed to battle a fire was in the arson at the Boulton and surrounding markets. Karachi's largest fire station is at Ranchore Lines while the second biggest is located at Sohrab Goth.

Hyderabad

Firefighters might be looking good in Karachi with their orange jackets and hardhats, but the situation in Hyderabad is not quite so grand.

"The fire stations look like ancient heritage sites," lamented a firefighter, Muhammad Jalal, "We don't have any modern equipment." The government has been less than attentive to the firefighters' plight. The brigade chief officer wrote a letter to higher officials one year ago, asking for necessary equipment, including basic gear like gas masks, first aid kits, rescue torches, ladders, jumping sheets, special goggles and fireman suits. More than twelve months later, the fire department has yet to receive a reply.

Jalal feels that the Hyderabad department has been terribly neglected, with no improvements made in its staff, stations or equipment since the department was created. The district has a population of 1.6 million and just five fire stations to deal with any accident or catastrophe that might occur. Even the staff that is available is so poorly equipped that they fear battling larger fires, said Jalal. Fighting towering flames and clouds of smoke is not an easy job, said another fireman, Muhammad Aslam.

The pay is not proportional to the perils a firefighter faces, he added. The dangers are real and can be fatal. As Akram Rajpur, chief fire officer at Hyderabad, said, the last fire chief Anayatullah died in the line of duty last year. He was a hero who saved more than 55 lives before he was fatally burnt in the fire that had engulfed an oil tanker carrying around 45,000 litres of oil.

The officer regretted the fact that Anayatullah's sacrifice had not been commended by the government. Nothing was provided to his family either, he added. The firefighters are battling flames on their own, without any contributions to their physical well being or morale.
COMMENTS (1)
Comments are moderated and generally will be posted if they are on-topic and not abusive.
For more information, please see our Comments FAQ