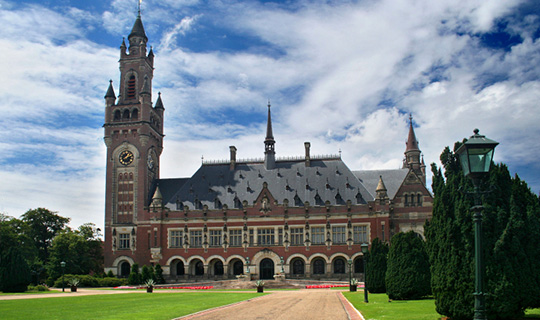 ---
THE HAGUE: From ruling on nuclear testing to bitter border disputes or whether whales can be hunted in Antarctica, the UN's highest tribunal the International Court of Justice is celebrating 70 years of far-reaching global decision-making.

But after seven decades the respected court remains hamstrung in any bid to intervene in the 21st century's most pressing conflicts so far, analysts say.

The ICJ can only rule in disputes when both the countries involved have accepted its jurisdiction, thereby placing conflicts such as the fight by pro-Russian separatists in eastern Ukraine beyond its reach.

Blasphemy trials in Pakistan are 'unfair': ICJ

A special sitting of the court will be held on Wednesday in the presence of UN chief Ban Ki-moon to mark the 70th anniversary of its opening in the imposing Peace Palace in The Hague.

Set up in 1946 after World War II, the ICJ's 15-judge bench, elected for a term of nine years, is seen as the final word in rows between states and an impartial arbiter when quarrels erupt between neighbours.

"The ICJ has helped settle international disputes involving territorial issues, diplomatic relations, hostage-taking and economic rights," said Aaron Matta, senior researcher at the Hague Institute for Global Justice think-tank.

The case of a remote tiny island attacking Pakistani nukes

It has "also served, albeit to a limited extent, as an instrument to protect human rights, but also jurisprudence to meet challenges such as threats to the environment," Matta told AFP.

Because of jurisdictional issues however "in some ways, the court is arguably best suited to low-level or moderate conflicts -- these are the ones that more frequently come before it," said Cecily Rose, assistant law professor at Leiden University.

Also, unlike its younger relative the International Criminal Court, the ICJ does not rule on criminal cases arising out of conflicts.

Back in 1947 when judges steeped themselves in the first case to be brought to the ICJ, the horrors and devastation of World War II were still uppermost in many people's minds.

Britain sued Albania after two destroyers hit sea mines laid during the war in the Corfu channel near the eponymous Mediterranean island, killing 45 sailors.

Marshall Islands sue Pakistan, India and Britain over nuclear weapons

In its first judgement, the ICJ held Albania responsible for the explosions, but also ruled that Britain violated Tirana's sovereignty when it subsequently embarked on a mine-clearing operation.

Albania was ordered to pay London £843,947 in compensation -- some £29 million (36 million euros/$40 million) in today's money.

Many of some 200 decisions handed down by the ICJ since then were born out of bilateral tensions which the tribunal has helped resolve.

One of the ICJ's biggest achievements "is the number of conflicts that have been avoided thanks to the court," the court's deputy president, Somalian judge Abdulqawi Ahmed Yusuf said recently.

"I think this is something this court can be proud of," added ICJ president, French judge Ronny Abraham during a rare meeting with reporters.

They cited the example of a long-standing spat between Cambodia and Thailand over access to the ancient temple of Preah Vihear.

In 2013, the court ruled that most of the area around the flashpoint site on the Thai border belonged to Cambodia, ordering Thai security forces to leave.

Cambodia welcomed the ruling, while Thailand said it accepted and withdrew its troops.

The ICJ has also played a major role in hearing cases on global nuclear testing.

Recently the tiny Marshall Islands -- scene of US-led atomic tests -- sued the world's major nuclear powers aiming to shine a new spotlight on the nuclear threat. The case is ongoing.

In what was seen as a major symbolic victory for environmentalists, the ICJ ruled in 2014 that Japan's annual whale hunt in the Antarctic was a commercial activity disguised as science, after Australia brought a case against Tokyo.

Last month however, activists accused Japan of an "empty response" after Tokyo resumed its Antarctic chase, killing 333 whales.

"There certainly would be more festering, long-term disputes between states," had it not been for the ICJ, said Leiden University's Rose.

"It would of course be great to see more disputes about critical ongoing conflicts submitted to... third parties like the ICJ. But the states have to consent to this in some way," she said.

Olivier Ribbelink, senior researcher at the respected Hague-based Asser Institute, said "states respect the court's rulings because they have confidence in the ICJ's impartiality and its carefully-considered judgements."
COMMENTS
Comments are moderated and generally will be posted if they are on-topic and not abusive.
For more information, please see our Comments FAQ