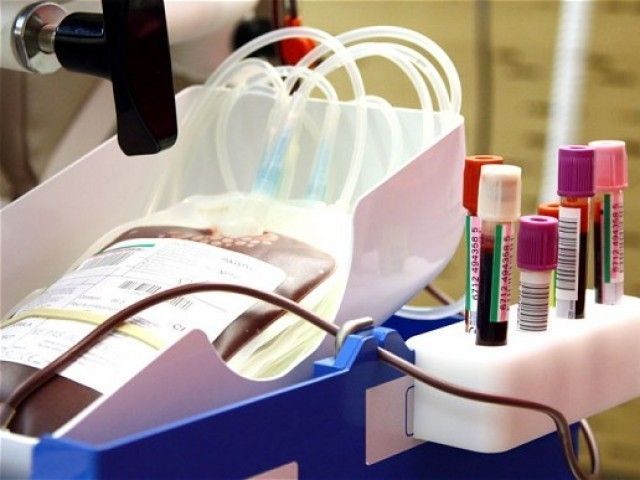 ---
SHABQADAR: Three men of a family in Shabqadar, have been suffering from haemophilia for the last two decades, have decided to stand up for the rights of people suffering from the disease as they have not been able to get treated due to resource constraints.

World Haemophilia Day will be commemorated across the globe on April 17, Sunday (today).

Haemophilia is a bleeding disorder. According to World Federation of Hemophilia (WFH) people with the disease do not bleed any faster than normal, but they can bleed for a longer time. Their blood does not have enough clotting factor.

"Our father is a waiter at a five-star hotel and has struggled for our treatment, one of the brothers," Muhammad Faheem, 28, told The Express Tribune. Faheem added he and his other two brothers need blood transfusion but there is no one to take them to the hospital in Peshawar as their father has to go to work.

Faheem and his brother Fawad, 25, and Fahad, 20, are suffering from haemophilia, while their sister is not.

Hurdles in the way

Although Faheem has completed masters in commerce, he did not get a job. He believes the reason to be his physical disability as his right leg does not function properly due to haemophilia.

Therefore, he said, he opted to contest the local government elections on a Pakistan Tehreek-e-Insaf ticket and now wants to register a society for the rights of patients suffering from haemophilia. He is also working as a head waiter at the Khyber-Pakhtunkhwa Assembly.

He said his father educated them with the hope that they will be able to earn for themselves, but none of the three brothers got a government job. However, he added, in 2015 PTI MPA Arif employed his younger brother as a watchman at a girls school in Shabqadar.

About politics he said that when he saw common people deprived of their basic rights he decided to follow PTI Chairperson Imran Khan who "has a vision for the youth". He added that was the reason why he contested elections on a youth councillor's seat.

Treatment for disease

Faheem said there are two types treatment for haemophilia: one is a fresh frozen plasma transfusion and the other is factor VIII (a clotting protein) injections.

According to WFH, in fresh frozen plasma the red cells are removed, leaving the blood proteins including clotting factors VIII and IX.

He added that in the world, including in India and Nepal, the injection is provided free of cost to patients suffering from haemophilia. "But in Pakistan the injection is not available for free and its market price is about Rs10,000 per. "Sometimes one needs three injections in a month – people from low income backgrounds like us then are left with no option but to go for blood transfusion which is painful and risky." He added, "Because blood in Pakistan is not pure."

Faheem maintained his younger brother now has contracted Hepatitis C due to these transfusions.  He said they are registered with Fatimid Foundation in Peshawar, but they need factor VIII injections.

He demanded the PTI government announce the provision of the injections free of cost.

Published in The Express Tribune, April 17th, 2016.
COMMENTS
Comments are moderated and generally will be posted if they are on-topic and not abusive.
For more information, please see our Comments FAQ