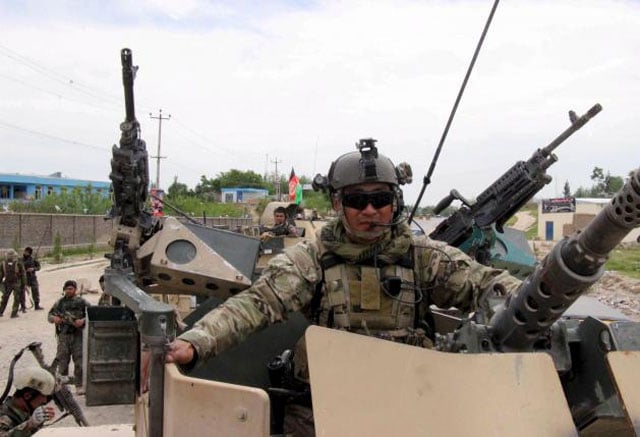 ---
KUNDUZ: Afghan security forces drove back Taliban insurgents attacking areas around the northern city of Kunduz, officials said on Saturday, after heavy fighting overnight in which dozens were killed and wounded.

Kunduz, Afghanistan's fifth-biggest city, fell briefly to the Taliban last year and the militant movement has stepped up the pressure since announcing the start of its annual spring offensive this week.

Defense Ministry spokesperson General Dawlat Waziri said 40 Taliban fighters had been killed and around 50 wounded after being beaten back by government forces. There were no details about any possible casualties among Afghan security forces.

Afghan forces repel Taliban in Kunduz as spring fighting begins

US surveillance aircraft were supporting Afghan security forces but there were no air strikes or other involvement by coalition forces in the fighting, a spokesperson for the NATO-led Resolute Support mission said.

Mindful of the panic that prompted thousands to flee last year, Provincial Governor Asadullah Omarkhel walked around the center of Kunduz city on Saturday, speaking to residents to reassure them that there was no risk of a repeat of the rapid collapse of the city's defenses last year.

The renewed fighting in Kunduz and continuing combat in other regions, including the southern province of Helmand, point to another dangerous year for Afghan security forces, which lost some 5,500 troops killed last year after NATO ended its main combat mission in 2014.

Taliban launch major push to retake northern Afghan city

It will also add to fears of another year of instability in Afghanistan driving an exodus that saw more than 200,000 Afghans reach Europe last year, the biggest single group after Syrians fleeing civil war.

The Kunduz provincial government said fighting was concentrated in Khanabad and Chardara districts and the villages of Charkh Ab and Talawka, and that 28 Taliban fighters had been killed and 38 wounded.

It said in a statement from its media office that Afghan and foreign forces had taken part in the operation but gave no detail beyond saying that weapons and ammunition had been captured from the insurgents.

Pakistan renews talks offer to Afghan Taliban

Saad Mukhtar, head of the public health department in Kunduz, said six dead and 87 wounded, including children, had been taken to hospitals in Kunduz so far.

The city's medical facilities face a major challenge to cope with large numbers of wounded, with the large Medecins Sans Frontieres hospital in Kunduz still closed six months after it was destroyed in a US air strike.