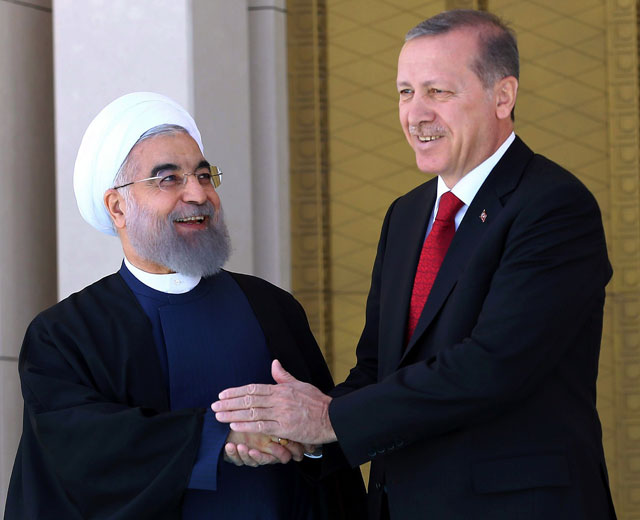 ---
ANKARA: Iranian President Hassan Rouhani held talks Saturday with his Turkish counterpart Recep Tayyip Erdogan, who is hoping to boost trade with the Islamic republic following the lifting of most international sanctions on Tehran.

The meeting at Erdogan's lavish palace near Ankara comes a day after Iran came under fierce criticism from fellow heads of state from the Muslim world, who accused his country at a summit in Istanbul of supporting terrorism.

Rouhani boycotted the closing meeting of the Organisation of Islamic Cooperation in protest at the rebuke.

Erdogan wraps up Istanbul summit promoting Islamic unity

His meeting with Erdogan, who is also at the centre of controversy, for seeking to silence critics at home and abroad, is expected to focus on the Syrian conflict and two-way trade.

Flanked by several ministers, Rouhani was due to co-chair with Erdogan a strategic cooperation council aimed at improving the two countries' relationship.

In a break with a tradition usually observed by visiting heads of state, his itinerary will not include a trip to the Ankara mausoleum of Turkey's founding father Mustafa Kemal Ataturk, symbol of secular Turkey.

After being brought in from the cold following last year's nuclear deal with world powers Iran is being courted by both Europe and Turkey as a potentially lucrative market for trade and investment.

Turkish Prime Minister Ahmet Davutoglu visited Tehran in March. At the time, the two countries said they aimed to triple annual bilateral trade to $30 billion within two years.

Turkey seeks to heal Muslim wounds at Istanbul summit

Several business deals are expected to be concluded during Rouhani's visit, Turkish media reported.




Despite the rapprochement Turkey and Iran remain on opposing sides of the five-year civil war in Syria.

Tehran backs Syrian President Bashar al-Assad, while Ankara sees Assad's ouster as key to any resolution of the conflict and supports rebels fighting to overthrow his regime.

The war in Syria has pitted Shia-majority Iran against predominantly Sunni rival and Turkish ally Saudi Arabia, with both aiming to increase their dominance in the region by helping their preferred camps triumph on the battlefield.

The two countries have also been embroiled in a diplomatic crisis since a mob in January set fire to Riyadh's missions in Tehran and Mashhad, Iran's second city, in protest at the execution by Saudi Arabia of a prominent Shia cleric.

Erdogan urges Muslims to overcome splits, fight terror

Rouhani's visit comes as the debate over Turkey's deteriorating record on press freedom and free speech spills over into Germany.

In a controversial move Friday German Chancellor Angela Merkel authorised criminal proceedings sought by Turkey against a German TV comedian over a crude satirical poem about Erdogan.
COMMENTS
Comments are moderated and generally will be posted if they are on-topic and not abusive.
For more information, please see our Comments FAQ