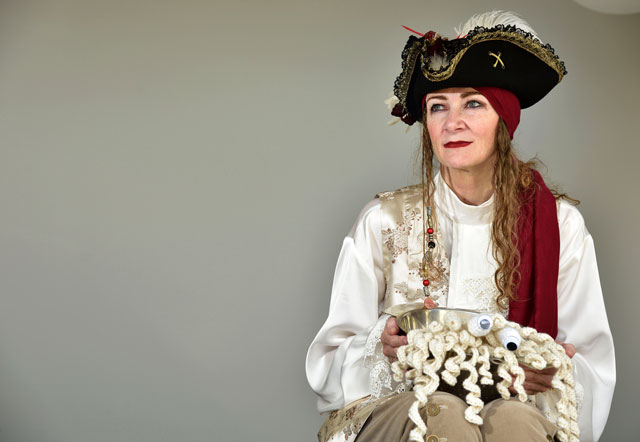 ---
WELLINGTON: The Church of the Flying Spaghetti Monster held its first legally recognised marriage in New Zealand on Saturday, with the offbeat movement hailing it as a milestone toward acceptance as a real religion.

Church adherents call themselves pastafarians, wear colanders on their heads, revere pirates and believe the world was created by a giant deity made of spaghetti.

But while they have a love of pasta-based puns and celebrate holidays such as "Talk Like a Pirate Day", followers insist their religion is no joke.

New Zealand officials agree, giving Wellington-based pastafarian Karen Martyn the legal right to conduct marriages last month after ruling the church was based on genuine philosophical convictions.

Martyn conducted her inaugural wedding as an ordained "ministeroni" on Saturday, when Toby Ricketts and Marianna Young became the first couple in the world to "tie the noodly knot" in a legally recognised ceremony.

"It's a formal recognition that we are a church and that's just great," she told AFP ahead of the ceremony. She said many more weddings were planned, including same-sex unions, which were legalised in New Zealand in 2013.

"I've had people from Russia, from Germany, from Denmark, from all over contacting me and wanting me to marry them in the church because of our non-discriminatory philosophy."

The wedding took place on a charter vessel decorated as a pirate ship at the South Island town of Akaroa, with guests dressed in costume. Ricketts said he knew some people may not take the marriage seriously. "That's kind of what attracted us to it," he told AFP.

Pastafarianism first appeared in a 2005 open letter written by Bobby Henderson to the Kansas Board of Education in protest over its decision to teach intelligent design in schools.

Henderson, 36, a self-described "hammock enthusiast" and computer nerd from Oregon, is regarded as the prophet of the Church of the Flying Spaghetti Monster (FSM).

He argued that believing a pasta god made the universe was no less valid than intelligent design, a form of creationism promoted by Christian fundamentalists, as both theories had no scientific merit.

Since then it has gained popularity and Henderson's website venganza.org details member activities ranging from public parades to campaigns for the right to wear colanders on driving licence photographs.

"New Zealand is one of the few places that has formally recognised us," he told AFP via email.