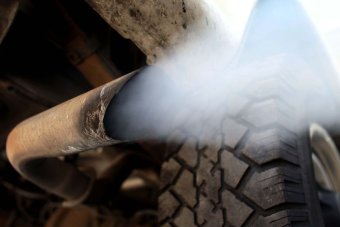 ---
HYDERABAD:



A recent research on emission levels of public transport vehicles in Hyderabad has depicted a scary picture. Vehicles have been found emitting excessively high amount of hydrocarbons (HC), nitrogen oxide (NOx) and carbon monoxide (CO) than is permitted.




The research, shared at MUET's environment conference, was conducted by Asad Ali Shaikh under supervision of Institute of Petroleum and Natural Gas Engineering director Dr Suhail Soomro. The researcher selected five types of vehicles for the study -Suzuki pickups, four-seater mini taxis, two-stroke rickshaws, mini buses and buses.

According to the city's regional transport authority, 150 mini buses, 250 mini taxis, 1,400 Suzuki pickups and 1,500 two-stroke rickshaws have been given route permits.

Emission samples from 15 vehicles of each of the four types selected were taken for measurement of particulate matter (PM) of HC, NOx, CO and sulfur dioxide (SO2). The samples were taken from Hyder Chowk, Tilak Chadhi, Badin Stop, Giddu Chowk, Nasim Nagar and City Gate locations, all of which are transport hubs.  According to the US Environmental Protection Agency, PM is a complex mixture of extremely small particles and liquid droplets.

The adverse effects of inhaling these gases are particularly damaging to the respiratory and nervous systems besides causing a range of other illnesses.

Two-stroke rickshaws - still in abundance- were found emitting HCs at an average of 33.7 grams/kilometre against the government's standard of 0.5g/km. The HCs released from mini taxis were measured at 27.12g/km, pickups at 11.5 g/km, mini buses at 3.3 g/km and buses at 1.1 g/km.

Similarly, research shows mini buses as major pollutant of CO discharging 33.8g/km followed by 20.6g/km of mini taxis against the standard of 2.2g/km. Pickups, buses and rickshaws were gauged at 14, 12 and 10.2g/km, respectively.

The NOx emission of mini buses was also discovered to be greater than other vehicles' at 20.2g/km against the permissible limit of 0.5 g/km. Readings from other vehicles ranged between 1.3 g/km to 7.3 g/km.

The research also noted that all the four types of vehicles were 25 to 50 years old.

The researcher suggested the government enforce a regular vehicle emission testing regime, ensure compliance with environmental standards and replace engines of two-stroke rickshaws with Euro-II engines. The use of catalyst converter filters, high quality fuel and creating public awareness can also help alleviate the negative impact.

Published in The Express Tribune, April 16th, 2016.
COMMENTS
Comments are moderated and generally will be posted if they are on-topic and not abusive.
For more information, please see our Comments FAQ