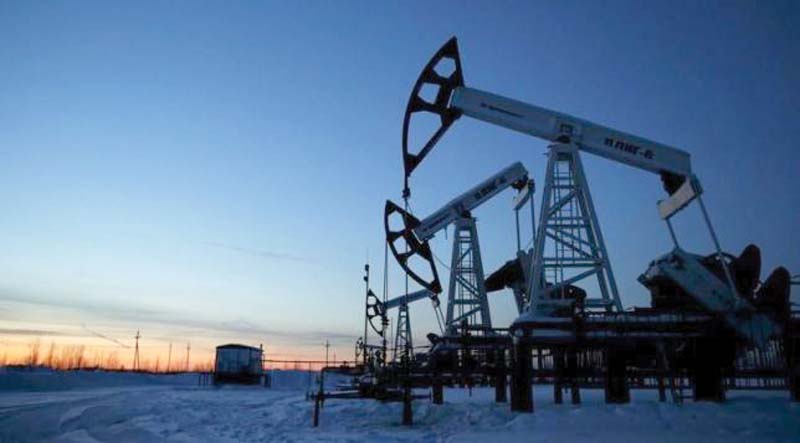 ---
KARACHI:



Contrary to the forecasts of a lot of analysts who predicted global oil prices would go down as low as $10 a barrel, Brent crude has made a rebound by hitting the highest level since the beginning of 2016.




The international benchmark for oil prices touched $44.68 per barrel on April 12, up 60.60% from $27.82  per barrel recorded on January 20.

How Pakistan can benefit from depressed oil prices

Oil prices hit the four-month high ahead of a meeting of big oil producers in Qatar on Sunday that may result in an oil production freeze.

Now that the downward price trend is reversing, some of the largest global oil trading houses have stated that oil prices are "unlikely to revisit the sub-$30 lows of January," according to a Financial Times report. Some of the analysts at the recently held FT Commodities Global Summit said they expected oil prices to hover between $60 and $70 in the foreseeable future.

Tough times ahead for Pakistan?

So how will the reversal in the downward trend in oil prices affect Pakistan's economy? For an oil-importing country that can barely contain its current account deficit despite record-low energy prices, a rise in Brent crude can possibly be an indicator of tough times to come.

Two of the major areas where the impact of rising oil prices will deeply be felt are remittances and inflation measured by the Consumer Price Index (CPI). Going by conventional wisdom, a surge in global oil prices will increase the rate of inflation in Pakistan that has remained subdued since October 2014.




Similarly, growth in remittances has slowed down in the current fiscal year - a trend that many analysts attribute to reduced global oil prices causing a cut in public spending in the oil-rich Arab countries. After all, the share of remittances from the oil-rich Gulf nations in Pakistan's remittances is almost 65%.

Falling oil prices - opportunity or threat

But are these commonly held assumptions right? Is Pakistan's low inflation in recent months a direct consequence of low global oil prices? Is the slowdown in remittances growth because of big cuts in fiscal spending in the Gulf region?

According to a recent research conducted by the State Bank of Pakistan (SBP) economists, these assumptions may not be 100% correct. Noting that the slowdown in remittances growth was expected in view of the fiscal constraints in the Gulf region, the SBP economists said it was "still higher compared with other countries."

Despite record-low oil prices, the number of Pakistani workers going to the Gulf countries has risen in recent months, the SBP said in its latest report on the state of Pakistan's economy. As many as 946,571 Pakistanis went abroad in Jul-Dec 2015, which translates into a growth rate of 25.8% over the same period of 2014, statistics released by the Bureau of Emigration and Overseas Employment show.

In fact, the number of Pakistani workers going to Saudi Arabia, Qatar and Oman increased 67%, 26.9% and 20.1%, respectively, over the same period, data shows.

"This suggests the impact of falling oil prices is yet to translate into lower labour demand from the Gulf Cooperation Council (GCC) via reduced spending on infrastructure and transport," SBP researchers said.

As for the assumption that falling international oil prices is the only reason for low inflation in Pakistan, evidence is murky at best.

SBP researchers undertook an exercise in which they kept oil prices constant at the level of October 2014 and then re-calculated headline inflation for the next 14 months. Inflation would still show a declining trend even though the direct impact of the fall in oil prices was excluded, according to the result.

Oil prices stuck below $30 on worsening glut fears

They noted that inflation had started declining back in December 2013 although the slump in oil prices began only in July 2014. "Although the fall in oil prices was one of the major factors behind the recent decline in inflation, other factors such as lower commodity prices (wheat, rice and edible oil) also contributed to the softening of CPI inflation."

Speaking to The Express Tribune, Topline Securities Senior Research Analyst Umair Naseer said it was too early to say how much the rising oil prices will affect inflation and remittances growth. "Forecasts about oil prices have been wrong in the past," he said, adding inflation will inch up definitely because of the 4% direct impact of oil prices on the CPI.

Published in The Express Tribune, April 16th,  2016.

Like Business on Facebook, follow @TribuneBiz on Twitter to stay informed and join in the conversation.
COMMENTS (4)
Comments are moderated and generally will be posted if they are on-topic and not abusive.
For more information, please see our Comments FAQ