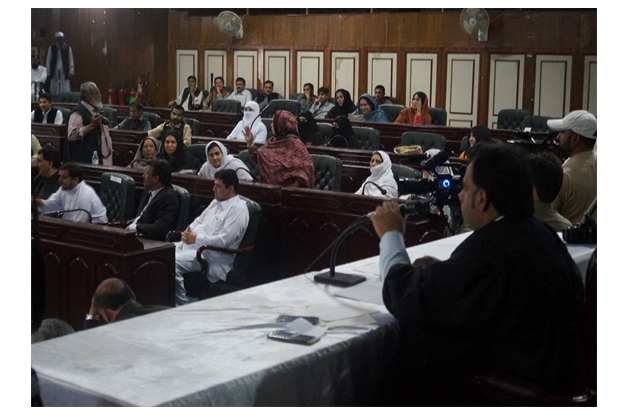 ---
PESHAWAR:



A majority of local government councils in all tiers across the province are holding sessions without bylaws as the model legislation is yet to be adopted.




Officials privy to the matter said the Khyber-Pakhtunkhwa Local Government and Rural Development (LG&RD) department framed model bylaws for all councils in the three tiers during November.

Each tier has separate model bylaws meant to be adopted through the councils. "Ideally, every council had to make their own, but the department made the models for them, knowing the bodies lacked the ability to legislate."

The issue came to the fore and objections were raised at district, town/tehsil and village/neighborhood councils. None of these bodies adopted the bylaws, yet sessions are still being held. "How are the councils holding their sessions when they have not adopted the necessary laws?" the official asked. He said necessary procedures were outlined by these laws.

The official added last week the LG&RD department issued strict instructions to the councils to immediately adopt the rules.

"A majority of the councils is yet to adopt the bylaws and very few councils, including the City District Council, have adopted them," he said.




Local councils director Israrullah admitted he was unsure of the exact number of such bodies which adopted the laws. "We are receiving letters from separate districts which are adopting the rules, but I don't have a total count yet," he said.

Into the law

The bylaws define and explain the working procedures for the district, town/tehsil and village/neighbourhood councils.

This includes how to convene meetings, and the adjournment and proroguing of sessions. Through these rules, the seating of members, their oath-taking, elections for the nazim, ways to pass a resolution for a vote of no-confidence against the nazim and the procedures for the presiding officer are underlined.

They elaborate on how to fill vacancies for naib-nazim.

The bylaws suggest procedure for questions to be answered in the house along with supplementary queries. It explains the calling to attention notice through which a member can use the permission of the presiding officer to bring into the attention of the nazim any matter of public interest. A member can stop the business of the house through an adjournment motion with the permission of the presiding officer to discuss a matter of grave importance.

The bylaws, ironically, define the procedures of bylaws and resolutions.

Defining budget behaviour

The nazim shall present the budget and no discussion can be held on the day. The only voice to be heard on the occasion will be the speaker.

The members may move cut-motions on demands for grants.


The bylaws also explain the structure and composition of the council committees and their workings. The finance committee of the council will be responsible for the examination of tax and budget proposals, re-appropriations and supplementary grants. It will also prepare the budget and outline supplementary estimates.


Published in The Express Tribune, April 16th,  2016.