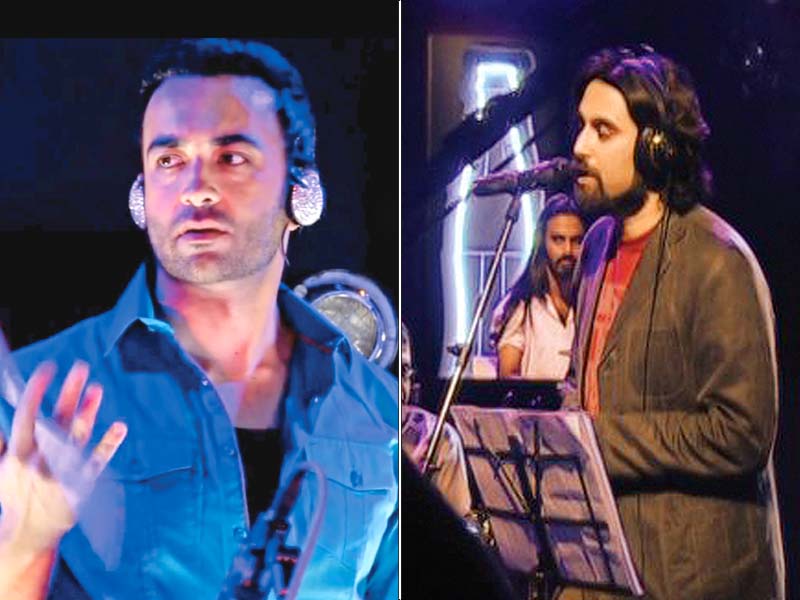 ---
LAHORE:



"People talk to me about the music industry and I ask them, what music industry are you talking about? You would be surprised to know that after our [Vital Signs] first album, we were broke. Had Pepsi not come to our rescue; there would have been no more albums."




This was Rohail Hyatt, looking back at perhaps Pakistan's most prolific band, during the heyday of his second industry-defining venture, Coke Studio. One can make a case that the marriage of corporate-sponsorships and cricket is quite different from that of corporate-sponsorships and music in Pakistan. There's much that sets apart a Brylcreem ad featuring the charming Fazal Mahmood and a Pepsi-bankrolled Vital Signs album; Mahmood was still surviving without ad money but for Hyatt and co, the cola manufacturer helped them prove to their parents that a musician can also make a living in Pakistan.

Veterans say the industry was never in good shape in the first place so the current crisis is nothing out of the ordinary. Amidst this vacuum, the increasing domination of brands that act almost like benevolent masters, a mafia that blurs artistic integrity brings into question the double-edged sword of corporate patronage.

Last year at Lahore Music Meet, industry heavyweights had dissected 'Corporate Patronage of Music in Pakistan' in great detail. Continuing the tradition, 2016 saw music producer Jamal Rahman, singer-songwriter Zoe Viccaji and Aikman Studios' Umnia Iftikhar take to the stage to discuss the process of '(In)corporating Music'.

Rahman said while it is important for an artist to maintain their integrity, doing commercial work isn't selling out. "The idea of rebelling against corporations is archaic. Musicians just need to be smarter about the projects they take up." Mentioning Manto, for which he produced music, he emphasised on complete creative freedom, saying that Sarmad Khoosat gave him just that.




Viccaji said it is imperative to find the right brand to work with. She spoke about a song that was mellow and close to her heart but the brand she was working with wasn't comfortable with it. "Brands want happy, upbeat songs to sell their product but you can explain it to them. It's about finding a balance."

The corporations' default position of strength in this process makes it all the more difficult for artists. Their patronage, quite often, is just an investment for selling more of their product. Iftikhar pointed out the disunity within our artist community which further weakens its cause. "If one musician is kicked out for what they believe in, another comes on board."

To be or not to be

Nescafe Basement guru Xulfi feels the brand has to understand how the artist's work will reflect on the image. "Nescafe Basement trusts the underground scene and took the risk of doing so," he tells The Express Tribune. "Unfortunately, we don't have concerts to drown out all the noise we create. If there were concerts, no one would care who was in which advertisement. When there is a booming music scene, no one notices corporate sponsorship."

One half of rock band Noori, Ali Noor, identifies two kinds of corporate patronage. "One is advertising and the other is commissioned work," he says. For the former, all the brand really wants is the artist to ensure audiences connect with the brand through the music. "Commissioned work is tricky so we ensure it's a collaborative project. As in the brand's stakeholder comes and writes the song with us." Noori has in the past not shied away from working with brands. "I've always had this stance where I've communicated from a position of equality," he adds.

For ace drummer Farhad Humayun, a corporate project sounds good for two reasons; first that the brand respects his work and second the pay cheque. Recalling his experience with Coke Studio, he says, "When we were doing it, we felt it was going to be the biggest season ever but the whole thing was mellowed down. When I asked Rohail, he said we have to play it safe because at the end of the day Coke Studio is a campaign for the brand."

Published in The Express Tribune, April 16th, 2016.

Like Life & Style on Facebook, follow @ETLifeandStyle on Twitter for the latest in fashion, gossip and entertainment. 
COMMENTS
Comments are moderated and generally will be posted if they are on-topic and not abusive.
For more information, please see our Comments FAQ