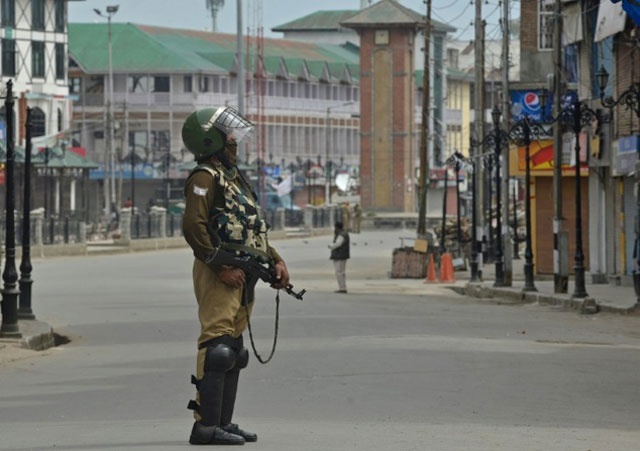 ---
SRINAGAR: A young man was killed Friday in Indian-held Kashmir when soldiers fired on protesters, taking the death toll to five in clashes that have continued for the fourth consecutive day, officials said.

"The 19-year-old was brought to the hospital with bullet injuries but he could not be saved," a doctor at a local hospital told AFP, declining to be named.

A police officer speaking on condition of anonymity confirmed the death, saying three other protesters with bullet wounds were sent to a hospital in the main city of Srinagar.

One killed in fresh Kashmir clashes

The latest clashes happened in Natnusa village, some 70 kilometres northwest of Srinagar.

On Tuesday, angry residents in the northern town of Handwara stormed an army bunker after a soldier was accused of molesting a local girl. Soldiers fired into the crowd, leaving three people dead, while a protester was killed in Wednesday as angry residents clashed with police.

The incidents have heightened tensions in the disputed region, where many resent the huge presence of Indian troops and regularly accuse soldiers of rights abuses.

On Friday authorities continued a curfew in parts of the territory, including Srinagar, for a third day as separatists opposed to Indian rule in Kashmir called for protests over the killings.

Mobile internet service also remained suspended.

Indian army kills two 'rebels' in Kashmir

Kashmir's chief minister, Mehbooba Mufti has warned officials over harming civilians while maintaining order following the deaths.

The Indian army, police and the local government have initiated three separate inquirers into Tuesday's shootings, promising punishment if any soldier were found guilty.

But an emergency military law grants soldiers deployed in Kashmir immunity from prosecution in civilian courts unless specifically permitted by New Delhi.

Kashmir has been divided between India and Pakistan since partition in 1947. Both claim the region in full and have fought two of their three wars over it.

Five dead in 24-hour gunbattle in Indian-held Kashmir

In 1989 a rebellion against Indian rule in Kashmir erupted with groups seeking independence or a merger of the territory with Pakistan.

Consequently, hundreds of thousands of Indian troops were deployed in the region, making it one of the world's most militarised zones.

The fighting has left tens of thousands dead, mostly civilians.
COMMENTS (3)
Comments are moderated and generally will be posted if they are on-topic and not abusive.
For more information, please see our Comments FAQ