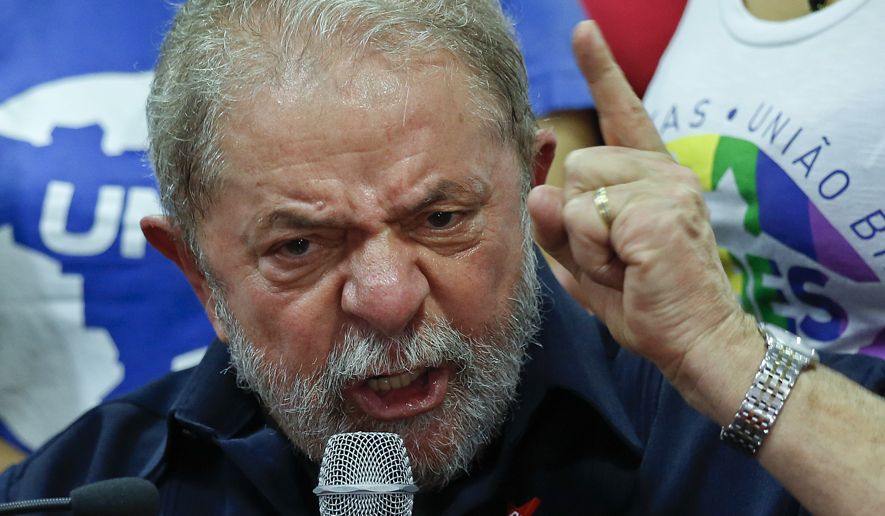 ---
SAO PAULO: An ex-metalworker who became one of Brazil's most popular presidents, Luiz Inacio Lula da Silva has put his increasingly threatened legacy on the line for his embattled successor.

Lula, as he is known to all Brazil, left office in 2011 as a blue-collar hero who presided over a watershed boom and helped lift tens of millions of people from poverty.

Now, his image tarnished by corruption charges, he has swooped back into active politics to help his embattled protege Dilma Rousseff face an impeachment battle, mass protests and the breakdown of her coalition.

He has been lobbying for support for Rousseff among the lower house lawmakers who on Sunday will vote whether she should face an impeachment trial over allegations of fudging government budget figures to boost her re-election numbers in 2014.

Brazil president cancels Washington trip: state news agency

Rousseff named Lula her new chief of staff last month, the highest post in her government. The courts then suspended the appointment pending corruption charges against him.

It was a risky bet for both of the leftist allies, and highlighted the abrupt decline in Brazil's fortunes since Lula stepped down.

Brazil's first democratically-elected leftist, Lula was so widely admired as president that Foreign Policy magazine called him a "rock star" and his US counterpart Barack Obama once referred to him as "the man."

Brazil to launch anti-Zika app for Olympics

Known for his charisma and common touch, Lula's popularity in Brazil and the success of the economy during a period of high commodity prices helped him ride out numerous corruption scandals.

When he stepped down after two terms, he basked in 80 percent popularity ratings.

But time has not been kind to him, or to Rousseff.

His successor is stumbling in the face of a massive political crisis exacerbated by a deep recession.

And Lula, a gruff, bearded 70-year-old, faces money-laundering charges and a request for his arrest in a massive corruption scandal centered on state oil company Petrobras.

Brazil's restive rich draft a duck to protest president

Lula grew up in deep poverty, the last of eight children born to a family of farmers in the arid northeastern state of Pernambuco.

He had little formal education as a boy, quitting grade school to help his family get by.

When he was seven, his family joined a wave of migration to the industrial heartland of Sao Paulo state, where Lula worked as a shoeshine boy and street vendor before becoming a steel worker.

He rose to become president of his trade union, less than a decade after joining.

He was the force behind big strikes in the 1970s that challenged the military dictatorship in power at the time. And in 1980, he co-founded the Workers' Party, first standing as its candidate for president nine years later.

Lula made three unsuccessful presidential bids from 1989 to 1998, each time chipping away at the establishment parties and the idea that a poor, uneducated labor leader could never be president of Brazil. The fourth time, in 2002, he succeeded, taking office on January 1, 2003.

Lula soon calmed market fears of a radical surge to the left by adopting fiscally responsible policies, dark suits and a calm, pragmatic approach.

He also had the good fortune to preside over a so-called golden decade for Latin America, when a rising China's ravenous demand for raw materials propelled the region's economies to record growth.

Brazil's economy achieved impressive 7.5 percent growth in 2010, his final year in office.

Despite a series of scandals in his first term -- most notably a congressional vote-buying case that felled his chief of staff -- Lula coasted to re-election in 2006.

He became a star of the emerging markets boom of the 2000s, reinforcing alliances across the world's developing nations.

Constitutionally limited to two consecutive terms, he cemented his legacy by helping Rousseff into power.

His post-presidential life has been fraught with difficulties. In October 2011 he was diagnosed with cancer of the larynx and successfully underwent chemotherapy.
COMMENTS
Comments are moderated and generally will be posted if they are on-topic and not abusive.
For more information, please see our Comments FAQ