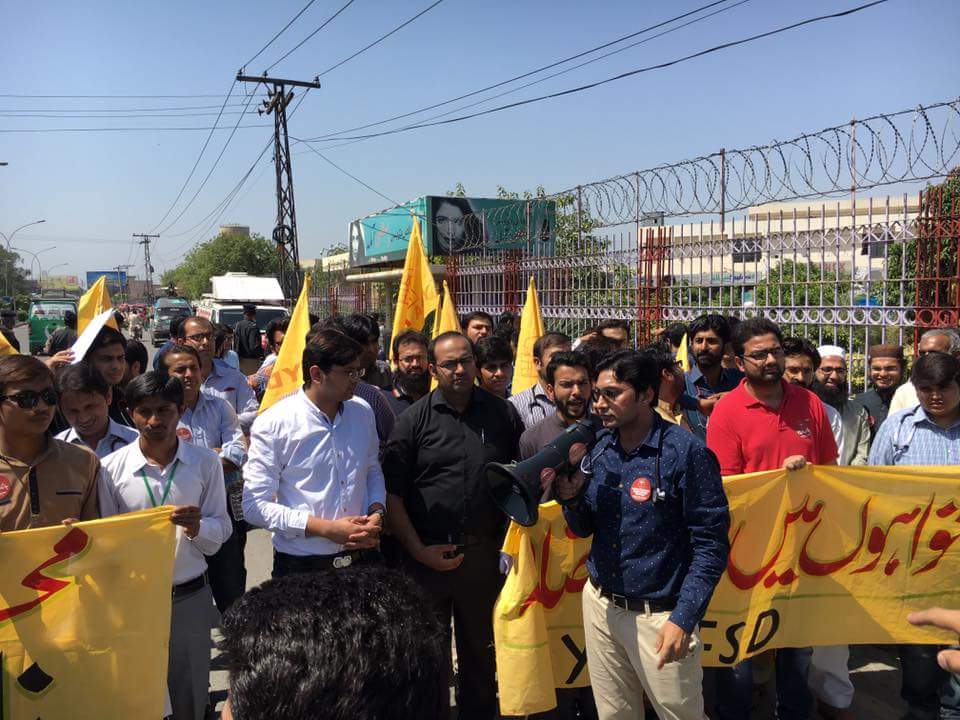 ---
FAISALABAD: The Young Doctors' Association (YDA) locked out Outdoor Patients Departments (OPDs) in major hospitals of Faisalabad including Allied Hospital, the Divisional Headquarters (DHQ) Hospital and the Faisalabad Institute of Cardiology (FIC) on Thursday to protest against police inaction against the leader of a local traders' body who allegedly beat up some doctors.

The YDA held demonstrations at all major government-run hospitals in the city and demanded the immediate arrest of those involved in beating up doctors.

YDA president Dr Maroof Vance told journalists on Thursday that a local traders' body leader who is also a candidate for city mayor-ship had brought some guards to the DHQ Hospital's Operation Theatre a few days ago and beat up doctors there. He said they had also threatened the doctors with dire consequences.

"We, the doctors, serve the ailing humanity…these goons barged into the operation theatre and set up hurdles in our work. This is maltreatment of doctors and is reprehensible."

Dr Vance said they had held a demonstration against the highhandedness of the public representative and demanded immediate action against him and his accomplices. The Civil Lines police has registered a case against the suspects but are yet to arrest any of them, he said.

The YDA president demanded the immediate arrest of the suspects and said that the doctors will continue their protest.

He said the YDA would also expand the scope of their protest. "If the police continue to ignore us, we will lock out emergency wards at major hospitals." He said the doctors wanted those involved in humiliating the doctors arrested. "Police have 48 hours to arrest the suspects."

Published in The Express Tribune, April 15th, 2016.