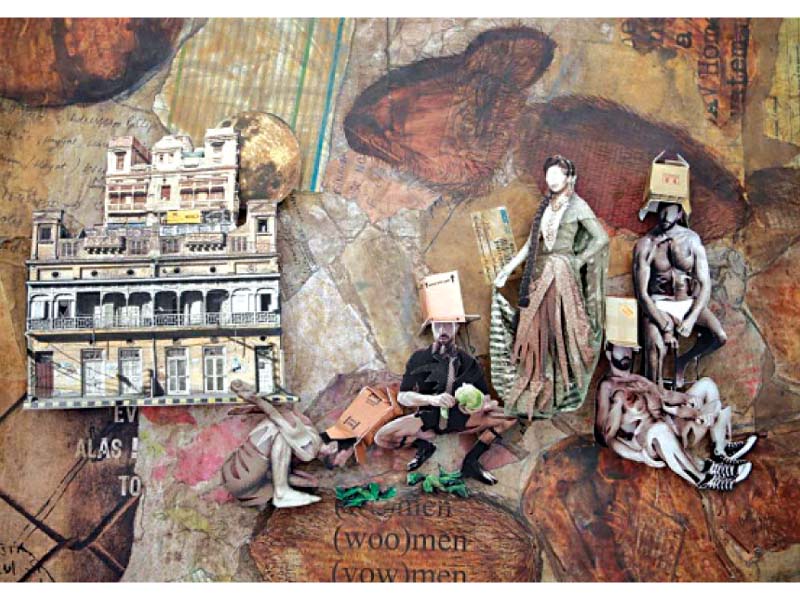 ---
ISLAMABAD:



An exhibition titled 'Fragmented Epiphanies' exhibiting works of six celebrated young artists went on display at Satrang Gallery on Thursday.




Artists Inaam Zafar, Mohsin Shafi, Rabeya Jalil, Saba Khan, Sehr Jalil and Shameen Arshad have tried to draw inspiration from their interests, readings and daily lives to create works. They have used text based visuals and interesting objects like erased and burnt magazine papers to create interesting pieces of mixed media.

UNDP Country Director Marc-Andre Franche inaugurated the exhibition. He said that a wise leader once said that when you want to see how a society is, see how they treat their prisoners, the mentally ill, and their artists. "I certainly think the way a society treats its artists is a reflection of how civilised the society is. Pakistan needs to do a lot more to promote its artists. In the past four years that I have been in Pakistan, I have personally witnessed contemporary art grow. Pakistani art has a potential to change the nation's perception towards positivity," he said.

Satrang Gallery Director Asma Khan said that art is a contemplative medium bearing the reflection of society and inspiring the behaviour, which grows to bring about a substantial change in the society.

Zahra Khan, curator of the show said she believes art is an investigation, a narration, a contemplative medium bearing the reflection of society and inspiring the behaviour which grows to bring about a substantial change.

Arshad told The Express Tribune that text has always been a part of her work. "Time and again I have been inspired by literature, using it as a basis for the imagery I develop on my canvas. However, the use of actual text is a very recent endeavour. I like the idea of text acting as visuals. Thus, my images make use of only words or letters to create visuals which, might seem as a design or pattern at first, reveal themselves to be fully formed sentences on closer inspection," she said.

She further said that she wanted to work on the idea of 'closure' that all individuals seek through the use of text on canvas. "The disruption in something as common as text on a wall invokes very different sentiments. I wanted to capture the discomfort caused in individuals when they are not able to fully decipher the text or they have to struggle to read a statement a few times before it makes sense to them," she added.

Zafar said his artwork was heavily inspired by his six-year experience of working with autistic children in Lahore. "I don't create artwork that shows autism in anyway. I believe that is too direct and art has to have a commercial value but my experience does have an influence on my work. While working with autistic children, one has to plan everything from scratch, which allows you to see into the detail of things like how brain works, how cognition operates and so forth. All of this translates into my work too," he said.

Jalil said her work was influenced by the flurry of everyday randomness, bursts, philosophies, nonsense, truth, lies, and love of life.

Khan explained that the past decade has seen rapid urban development in Lahore, which has had an influence on her work. "The previous landmarks and trees have been eaten up and the city is adamant on providing dream homes to middle and upper classes, mushrooming miniature American 'McMansions' with Punjabi baroque sensibilities are the norm," she said.

The exhibition is ongoing till May 15.

Published in The Express Tribune, April 15th, 2016.