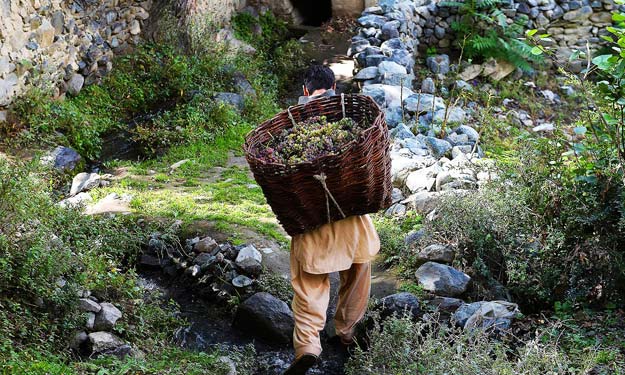 ---
CHAKWAL:



Chakwal is traditionally known for wheat and peanut farming. So when a grower decides to swim against the tide, sceptics are quick to dismiss him as being foolish.




Mohammad Niaz is not just growing grapes across seven acres of his land but also hoping for exceptionally good returns on his investment.

Farmers should switch from wheat to other crops

Just three years ago, the prospect of cultivating grapes in this northern part of Punjab was unimaginable but the trend changed when the World Bank and the provincial government joined hands to improve farming standards and usher in new farming technologies.

Niaz is among those lucky farmers who have been picked for the implementation of the first phase of the Punjab Irrigated Agriculture Improvement Programme, which was funded by the World Bank with a loan of $250 million.

The Punjab government has offered 60% subsidy to farmers for introducing new techniques. In order to qualify, the farmer has to contribute 40% to the cost, which alone makes most farmers ineligible due to the very high equipment charges upfront.

But the programme is meant to offer an opportunity to small farmers to adopt modern technologies in order to cope with growing water crisis besides increasing agriculture yield.

Grape cultivation through drip irrigation benefits the farmer, as well as the country, through 50% water saving, 45% reduction in fertiliser cost and almost 100% increase in per acre yield, said Niaz.

Estimated: Wheat target likely to be missed

"Just four hours of water supply is sufficient to irrigate seven acres through drip irrigation, while even two acres of land could not be watered with four days of supply through the conventional flooding system," said Niaz.

Pakistan's food security is highly dependent on irrigated agriculture that is being affected due to abrupt climate changes. According to one estimate, over half of Punjab's share of water is lost in canals and watercourses.

Despite the heavy price that drip irrigation equipment carries, once installed, the technology can drastically change the farmer's life for the better, said Mohammad Iqbal, a former banker. Iqbal, taking caution, has installed the equipment on just two acres of land.  He hopes to earn at least Rs1 million from one acre against roughly Rs50,000 earnings from the wheat crop.

Although modern irrigation technologies are becoming increasingly popular in other countries, farmers in Pakistan remain sceptical due to high costs and lesser-known results.

Niaz said he has concerns over high cost of the equipment supplied by the provincial government that, according to him, was double the market prices. He said the farmer could afford the new system, if the Punjab government gives 80% subsidy against the current threshold of 60%. The low-income small farmer cannot afford it, said Niaz.

Dry winter leaves farmers looking for work in town

Raees Ahmad Raees, director general of Punjab Irrigation Department, insisted that the major component of the cost was integrated drip pipes imported from India. Local ones, he elaborated, rusted within two years whereas these would last up to 12 years.

Raees was confident that once this technology is adopted by a wider margin of farmers, economies of scale would set in and the costs would substantially decline.

The core components of the project included installation of drip and sprinkle irrigation systems on 120,000 acres of land, provision of 3,000 laser units to farmers, up-gradation of 5,500 canal watercourses, completion of 1,500 acres of under-construction watercourses and rehabilitation of 2,000 irrigation schemes outside the canal commands.

Raees said that 3,000 lasers have already been distributed among farmers while additional funding has been sought for providing 6,000 more of such equipment. He said so far 5,000 watercourses have been upgraded.

Of the targeted 120,000 acre land, only 20,000 acre has been equipped with the new technology.

The gestation period of the project was five years, of which half has already lapsed.

However, Qaisar Yasin, deputy director of the irrigation department, said that the project's deadline was being extended from December 2018 to 2020 and the provincial government has sought $200 million additional funds for its execution. The request for extension is pending with the federal government.

Published in The Express Tribune, April 15th, 2016.

Like Business on Facebook, follow @TribuneBiz on Twitter to stay informed and join in the conversation.
COMMENTS (8)
Comments are moderated and generally will be posted if they are on-topic and not abusive.
For more information, please see our Comments FAQ