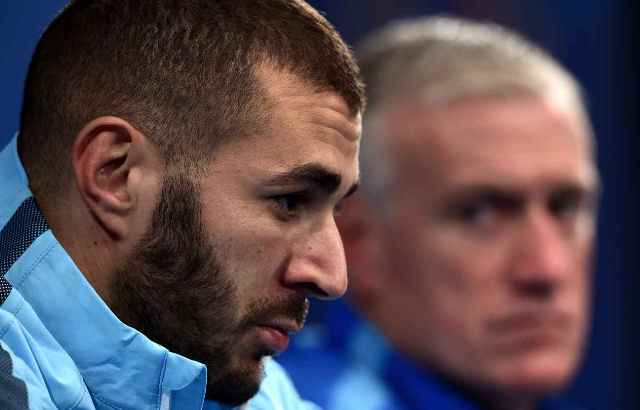 ---
PARIS: Karim Benzema was axed from France's Euro 2016 squad so as not to "disrupt the spirit" in the national squad, French football chief Noel Le Graet told sports daily L'Equipe on Thursday.

The French Football Federation (FFF) president added that the Real Madrid striker had "done something really stupid" over the Mathieu Valbuena sextape affair.

The 28-year-old forward was indefinitely suspended from the France team in December after he was placed under criminal investigation over an attempt to blackmail France teammate Valbuena in relation to a sex-tape.

Benzema admits to lying over sex tape - report

Benzema has been accused of complicity in the attempt.

Legal restrictions barring Benzema from coming into contact with Valbuena were recently lifted, but on Wednesday the FFF announced that, even so, he would not be selected for the June 10-July 10 tournament.

Le Graet, in an interview published on L'Equipe's website, said: "The deciding factor was the way the squad got on during the training camp (in March).

"We felt there was a strong harmony. On the pitch, we felt they were conducting themselves so well that it wasn't worth taking the risk of disrupting that spirit."

Zidane emerges from Cruyff-tinged Clasico the winner

He reported that Benzema had been shaken up at the decision when he was told of it by France coach Didier Deschamps.

"After speaking to Karim, Didier told me he was very, very, very sad," Le Graet reported.

Reflecting on the Valbuena case, Le Graet said: "I hope first of all that this affair results in a dismissal of the charges for Karim.

"Let me repeat, I've a lot of affection for him. But here, all the same, he's done something really stupid."

According to investigators, Benzema was approached by a childhood friend from Lyon, Karim Zenati, who asked him to persuade Valbuena to pay money to have the tape destroyed.

Instead, Valbuena went to the police.

Three men were arrested and held in custody over the demands to Valbuena, but they were subsequently released.

Benzema has denied any wrongdoing, but could face a five-year jail term if found guilty.