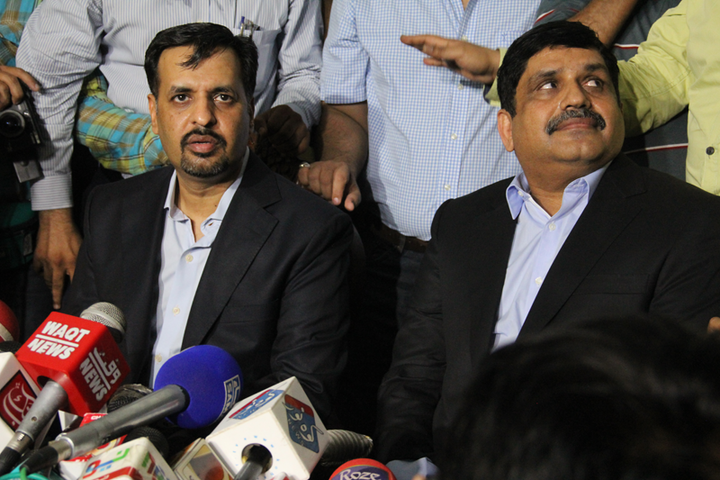 ---
Mustafa Kamal has demanded the government to impose a ban on the Muttahida Qaumi Movement (MQM) over allegations that the party is working for India's premier spy agency, the Research and Analysis Wing (RAW).

"Either the government should ban MQM-like parties or categorically tell us the allegations are false and take us to court," Kamal told newsmen outside his residence in Karachi on Thursday.

Demanding an investigation into the RAW-related allegations against the MQM, the Pak Sarzameen Party leader said the government should settle the matter once and for all.

Altaf working for RAW, says Kamal

"If these allegations are even five per cent true then such parties and their political activities should be banned in Pakistan," he said.

The former Karachi mayor once again repeated the claims against Altaf Hussain and his close aides.

"Don't tell us lies. Instead of telling lies you should accept the truth and stop misguiding the youth," Kamal said, claiming the MQM chief and party convener Nadeem Nusrat were "specialists in having people killed".

Mustafa Kamal launches political party after no-holds-barred tirade against Altaf Hussain

Kamal, who returned to the country earlier last month, has levelled blistering criticism at Altaf's 'strong-arm tactics' and accused him of working for RAW.

He has accused the MQM chief of accepting funds from RAW for the past two decades, directing party workers to go on killing sprees, politicking over corpses, destroying two generations of Mohajirs (Urdu-speaking people) and issuing threats under the influence of alcohol.
COMMENTS (14)
Comments are moderated and generally will be posted if they are on-topic and not abusive.
For more information, please see our Comments FAQ