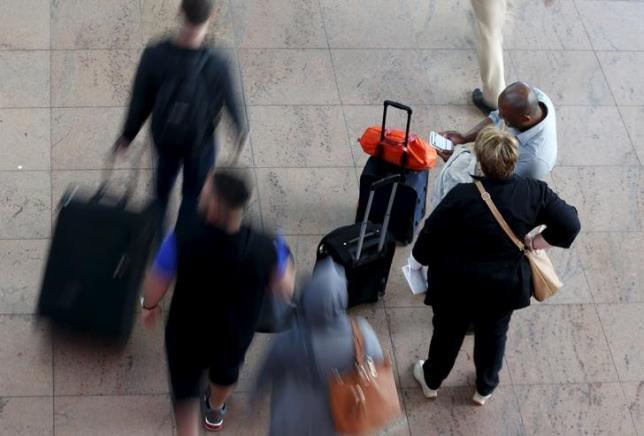 ---
STRASBOURG, FRANCE: The European Parliament votes Thursday on whether airlines can share names of passengers with EU states to help trace returning militants, culminating five years of debate that intensified after the Paris and Brussels attacks.

One of the two Brussels airport suicide bombers, Ibrahim El Bakraoui, was deported by plane from Turkey to Europe without detection despite being a wanted man in Belgium.

Suspect wounded, held, in Brussels attacks probe

The vote by MEPs in Strasbourg, France comes after interior ministers from the 28 EU nations in December finally settled privacy concerns that had hobbled negotiations with the legislature since 2011.

The United States has long urged the European Union to establish a Passenger Name Record (PNR) system where officials can detect patterns of suspicious behaviour through the sharing of passenger data.

"I'm hoping for a positive vote," Timothy Kirkhope, the British conservative MEP who is steering the legislation through parliament, told a press conference Wednesday in Strasbourg.

Belgian media say Brussels prime suspect not arrested

"We've taken a long time to come to this point. But I hope we finally may be able to put in place a PNR system that delivers both for saving lives and also for protecting our vital liberties," Kirkhope said.

The PNR is designed to track not only potential jihadists but also criminals, including those who smuggle people, drugs or weapons.
Kirkhope has said the choice is not between a European Union PNR system and no such system, but one between a bloc-wide approach and 28 national systems that would leave gaps.

PNR can "identify the routes used by criminals and terrorists and prevent individuals from reaching their intended destinations or targets," he said Wednesday.

France spearheaded the drive for the PNR in the wake of the November 13 Islamic State group attacks in Paris that left 130 people dead. It made another push following the March 22 attacks in Brussels that left 32 people and were linked to those in the French capital.

The draft legislation would require airline firms to share passenger data -- such as travel dates, itineraries, passport details and phone numbers -- with authorities in EU destination countries.
The goal is to detect, for example, individuals who have not been flagged by authorities as presenting a threat but whose travel patterns raise suspicions.

Investigators have new Syrian suspect in Brussels bombing: paper

It would then be up to one country to alert another or send a specific request for data from another country as part of an investigation.

It would apply to flights to and from destinations outside the EU, but member states could also apply them to flights within the bloc.
The data would be held for five years, though after six months key information would be "masked" and no longer be accessible, barring a specific request.

France had originally wanted the information to remain unmasked for at least one year but EU members settled in December for the six months that parliament wanted.

The vote will occur along with a separate ballot on rules over how the police and the courts use personal information.

Belgian media say Brussels prime suspect not arrested

French Prime Minister Manuel Valls visited Strasbourg on Tuesday to lobby various parliamentary groups, including fellow socialists, urging MEPs to show "responsibility" in the wake of the Brussels attacks.

"The European PNR is an extra means we will have to be effective in the fight against terrorism," Valls said.

If adopted, EU countries will have two years to turn it into national law.