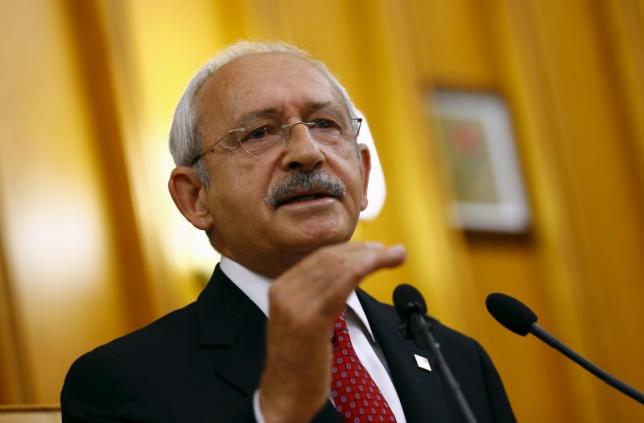 ---
Turkey's main opposition Republican People's Party (CHP) will support draft legislation by the ruling party that would strip lawmakers of their immunity from prosecution, CHP leader Kemal Kilicdaroglu said on Wednesday night.

President Tayyip Erdogan has repeatedly called for deputies of the pro-Kurdish People's Democratic Party (HDP) to face prosecution, accusing them of being an extension of the outlawed militant group, the Kurdistan Workers Party (PKK).

Muslim body to focus on Palestinians, terror at Turkey summit

Kilicdaroglu told broadcaster CNN Turk his party would support the proposal, even though he said it would be contrary to the constitution.

"A measure which is against the constitution has been put forward. We know that, but we will say 'Yes' to it," he said in an interview, adding that nobody should have immunity from prosecution, without giving details.

Turkey strikes Islamic State in Syria after rockets hit border town: official

HDP deputies have criticised Turkey's large-scale security operations in its mainly Kurdish southeast, where violence has surged since the collapse of a two-year ceasefire with the PKK militants last summer.

The HDP criticism has fueled Turkish nationalist calls to prosecute politicians seen as close to the PKK, which is listed as a terrorist organization by Turkey and its Western allies.

All 316 AK Party lawmakers signed Tuesday's draft proposal, party officials have told Reuters. Lawmakers in Turkey are normally protected from prosecution.

US Embassy warns citizens about 'credible threats' in Turkey

For the AK Party proposal to be accepted without the need for a referendum, it must win the support of 367 MPs in the 550-seat assembly. The CHP has 133 seats.

The HDP is the subject of more than half of some 550 dossiers in parliament calling for the lifting of immunity from prosecution.

The HDP gained 59 lawmakers in last year's parliamentary election after clearing the 10 percent threshold to enter the assembly. It is the third largest party in the parliament.
COMMENTS
Comments are moderated and generally will be posted if they are on-topic and not abusive.
For more information, please see our Comments FAQ