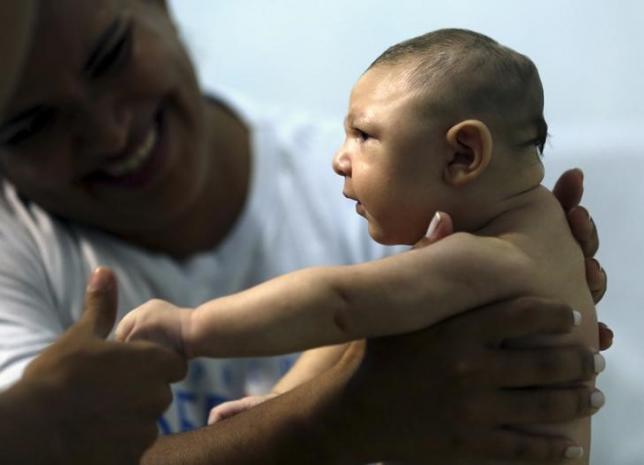 ---
MIAMI: The mosquito-borne Zika virus causes birth defects, including a syndrome in which babies are born with unusually small heads, US health authorities confirmed Wednesday after months of debate and uncertainty.

"Scientists at the Centers for Disease Control and Prevention have concluded, after careful review of existing evidence, that Zika virus is a cause of microcephaly and other severe fetal brain defects," said a statement from the federal agency.

Zika virus mosquitoes found in Pakistan: GOARN

The decision was based in part on a series of studies in Brazil, where thousands of babies were born last year with birth defects, coinciding with a spike in Zika virus infections among the general public.

"This study marks a turning point in the Zika outbreak," said CDC chief Tom Frieden.

"It is now clear that the virus causes microcephaly."

There was no "smoking gun," or single piece of evidence that offered conclusive proof, said the full report, published in the New England Journal of Medicine.

Rather, the decision was made based on "increasing evidence from a number of recently published studies and a careful evaluation using established scientific criteria," said the CDC.

Further studies are being launched to "determine whether children who have microcephaly born to mothers infected by the Zika virus is the tip of the iceberg of what we could see in damaging effects on the brain and other developmental problems," Frieden added.

Zika virus was first identified in 1947 in Uganda, but the virus was poorly understood and symptoms have typically been mild, including rash, joint pain and fever. Most of those infected report no symptoms at all.

Zika was first identified in Brazil in early 2015, and a surge in infants born with microcephaly began nine months later, in September.

Zika outbreak: Pakistani travellers advised to put off trying for a baby during travel

Brazil has confirmed 907 cases of microcephaly and 198 babies with the birth defect who have died since the Zika virus outbreak started, officials there said last month.

The Brazilian health ministry said it is still investigating 4,293 suspicious cases.

"The severe microcephaly and other brain anomalies that have been observed in many infants are consistent with an infection occurring in the first or early second trimester of pregnancy," said the report in the New England Journal of Medicine.

Until now, no mosquito-borne virus has been known to cause birth defects, and the last infectious pathogen known to cause an epidemic of birth defects was the rubella virus more than 50 years ago.

Experts reviewing the evidence of microcephaly in Brazil found a similar increase in the birth defects in French Polynesia, which was hit by an outbreak of Zika in 2013 and 2014, though the number of microcephaly cases was small, totaling just eight.

Microcephaly is a rare defect that occurs in six out of every 10,000 births in the United States.

The lack of clarity on whether or not Zika could be established firmly as a cause of birth defects may have contributed to poor public understanding of the virus and its risks, the report said.

A recent poll of Americans found that one in four were unaware of any association between Zika and birth defects, and one in five believed, wrongly, that there was a vaccine to prevent it.

Women who are pregnant or considering becoming pregnant are advised to avoid the more than 30 places in Latin America and the Caribbean where Zika is circulating, and to wear mosquito repellant if they live in those areas.

'Dengue mosquito's presence can lead to Zika virus outbreak'

While is now known to Zika cause microcephaly and other severe fetal brain defects, the actual risk of such birth defects remains unknown.
Indeed, some women who were infected with Zika while pregnant gave birth to apparently healthy children.

The CDC said it would not change it recommendations for women who are or want to get pregnant. They should continue to avoid traveling to Zika infected areas. Their partners should either use condoms or abstain from sexual contact while the woman is pregnant.

"Establishing this causal relationship between Zika and fetal brain defects is an important step in driving additional prevention efforts, focusing research activities, and reinforcing the need for direct communication about the risks of Zika," said the CDC.

"While one important question about causality has been answered, many questions remain."