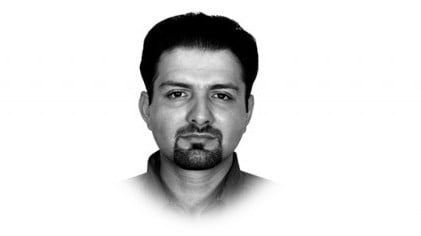 ---
Last month a bombing raid by the Pakistan Army in the Tirah Valley deep within Khyber Agency, conducted under the garb of Operation Rah-e-Nijat (which fits the bill as a proxy for the US-led war on terror) left over 70 civilians dead and many more injured. ISPR reported that 35 militants were killed when jets hit hideouts inhabited by a largely pro-government Kukikhel Afridi sub-tribe, which was wrongly claimed as a stronghold of the Lashkar-i-Islam.

Two sons of late Hameed Khan, whose house was bombed by jet-fighters in the first strike, are serving in the Frontier Constabulary. The second bombing raid a few hours later was far more devastating as the rescuers who had rushed to retrieve bodies and recover the injured were attacked. Considering that an iron-clad gag order exists on the media preventing it from directly covering the war on terror, the initial claims were exposed when the dead and wounded were brought to hospitals in Peshawar with great difficulty, after walking through mountains and driving on unpaved roads.

Furious tribal elders blamed the military precisely because the Kukikhels have never sheltered or supported militants and in fact have been helping the military in its endeavour to cleanse the area of militants. The Tirah incident remained under the full glare of the media, and there being no easy explanation, Chief of Army Staff General Ashfaq Parvez Kayani, in a rare move, issued an apology to the leaders of the Kukikhel.

It is safe to assume that this was done to mollify the anger which was deemed valid since the tribal leaders had been fairly cooperative. Given the lack of transparency surrounding these operations it is also safe to say this wasn't an isolated incident of 'collateral damage'. The media has been bullied into publishing only those stories that are approved by the ISPR, while independent news from the conflict regions has been systematically suppressed.

It is not possible to trust the official reports coming out of the ISPR, claiming deaths of hundreds of militants with rarely a civilian casualty. This war is creating more problems while it solves few. Completion of the Swat action should have been followed up with quick delivery of justice, with rehabilitation of the economy. Steps have been taken, but not enough to convince the local population. Army action and remote bombing is not a solution, but it can be a part of the solution if better intelligence helps limit the collateral damage. Our potential to redress does not match our potential to damage.

Ameen Jan carries the coffin of his 12-year-old son Saeed. "We are associated neither with the Taliban nor the militant group Lashkar-i-Islam. Why have the security forces killed my son?" How patriotic will he be now? Does this kind of an approach where a military operation is launched solve a problem or make matters worse for us?