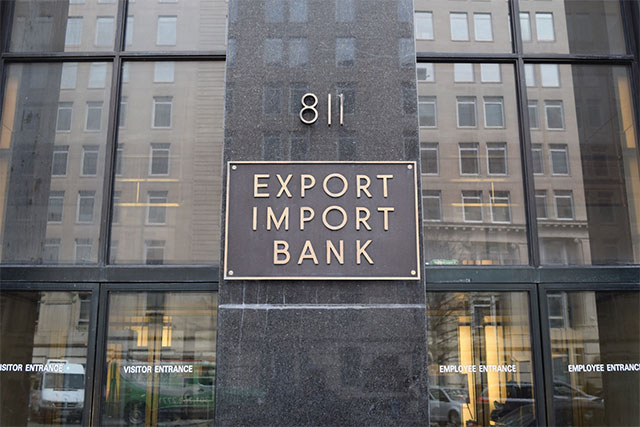 ---
KARACHI:



It is rare for the head of a large American bank to visit Pakistan. Rarer is a visit by the president of a bank that is backed by the "full faith and credit" of the United States.




Fred P Hochberg, chairman and president of the Export-Import (Exim) Bank of the United States, recently visited Pakistan to look for growth opportunities in what can potentially be one of the major export markets for US manufacturers.

US companies show interest in Pakistan

The specialised bank set up to meet financing needs of US-based businesses to increase American exports worldwide has a renewed interest in Pakistan. "The economy is doing better, security situation is improving, and its credit rating is up. Exim Bank sees a lot of opportunities to expand its exposure to Pakistan," Hochberg said while speaking to a group of journalists on Tuesday.




Exim Bank is different from a typical commercial bank that offers trade financing. It exists as the official export credit agency to grow the share of "Made in America" goods in global trade. Where private-sector US banks are unwilling to provide exporters with financing in view of country and credit risks, Exim Bank offers export credit insurance and loan guarantees to American manufacturers as well as direct loans to their foreign customers.

Business in Pakistan

According to Hochberg, Exim Bank has not done much business with the private sector in Pakistan so far. "That's why the purpose of my visit to Pakistan is to meet private-sector representatives," he said.

Trade map: Why are Pakistan's exports declining?

Exim Bank has been financing the purchase of American goods by public-sector Pakistani companies for nearly two decades. Its total financing in different forms over the two decades has been "north of $2 billion" in Pakistan, he said.

For example, Exim Bank has financed eight aircraft for PIA. Three are still on the portfolio of Exim Bank while repayments for the rest of the aircraft are over, he said. In addition, Exim Bank also financed PIA's purchase of five 777s in 2012, which will be delivered next year, he added.

As opposed to India where it had a total exposure of $5.8 billion at the end of the last fiscal year, Pakistan appears to be largely off the radar of Exim Bank. Its total exposure to Pakistan amounted to only $514.3 million at the end of 2014-15.

Lack of efforts on the part of Exim Bank to develop business relations with Pakistan's private sector seems to have hurt US exporters. American exports to Pakistan registered a decline of 6% per annum for 2010-14 and clocked up at just $1.5 billion in 2014. In contrast, Chinese exports to Pakistan amounted to $13.2 billion in 2014 after increasing 17% per annum over 2010-14.

Pace of fall in exports 3 times faster than imports

In other words, the world's second largest exporter is gradually losing an export market of 200 million people without putting up a fight. Hochberg says Exim Bank is now eager to expand its footprint in Pakistan, especially in the areas of infrastructure, aircraft, rail, power and textile equipment.

There is no upper limit when it comes to increasing Exim Bank's total exposure to Pakistan, he said. "All we require is a reasonable expectation of repayment," he said.



Published in The Express Tribune, April 14th,  2016.

Like Business on Facebook, follow @TribuneBiz on Twitter to stay informed and join in the conversation.
COMMENTS (9)
Comments are moderated and generally will be posted if they are on-topic and not abusive.
For more information, please see our Comments FAQ