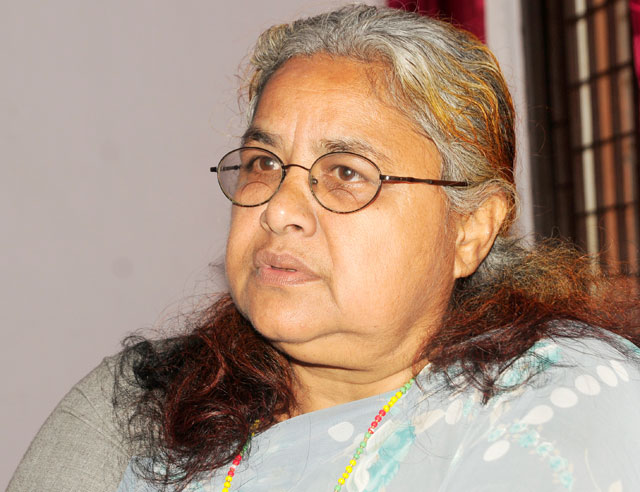 ---
KATHMANDU:

Sushila Karki became the first female acting Chief Justice of Nepal's Supreme Court on Wednesday, ending the male domination of top posts in the judiciary.


The Himalayan nation, though still a deeply patriarchal society, is becoming increasingly inclusive, following the end of 10 years of civil war in 2006 and the abolition of the 239-year-old feudal monarchy two years later.

Pakistan, India may break the ice in Nepal

In September last year, a specially elected Constituent Assembly approved the first post-monarchical constitution, which gave women the right to "proportional inclusion" in all government organs.

It also guaranteed equal property rights to daughters and required that the president and vice-president be from different genders and communities.

The Constitutional Council headed by Prime Minister K.P. Oli recommended the appointment of Karki, 63, to replace Kalyan Shrestha, who retired on Tuesday.

Her nomination is expected to be confirmed by a parliamentary committee, though this has not yet been formed because of bickering among political parties.

An Oli aide, Pramod Dahal, said Karki would work as acting Chief Justice until the parliamentary hearing, which is a formality.

The president, who holds a ceremonial position, and the parliament speaker are also women, further signs of change in a society with a tradition of male domination.

The appointment of Karki, who was the most senior judge in the Supreme Court, has been hailed by activists as a milestone in women's empowerment in Nepal, putting it ahead of its giant neighbour India, which has not had a woman as head of its Supreme Court in 65 years as a democracy.

Karki has the reputation of being a fearless judge with zero tolerance for corruption. She is also known for judgments allowing women to pass their citizenship to their children, previously something only men could do in Nepal.

"She strongly believes that competent women should be in leadership positions for the emancipation of women," Hari Phuyal, a senior lawyer and former student of Karki, who began her career as a teacher, told the Thomson Reuters Foundation.

Two pilots killed when plane crash landed in Nepal

Former colleagues say Karki is known for delivering judgments free of the influence of politics or personal ties.

"Even  as a child she treated everyone as equals and encouraged us to go to school," her younger sibling, Junu Dahal, told the Foundation.

Modest and courteous, Karki is the eldest of seven children in a prosperous farming family in Shankarpur village, a jute-growing area in the eastern plains.
COMMENTS
Comments are moderated and generally will be posted if they are on-topic and not abusive.
For more information, please see our Comments FAQ