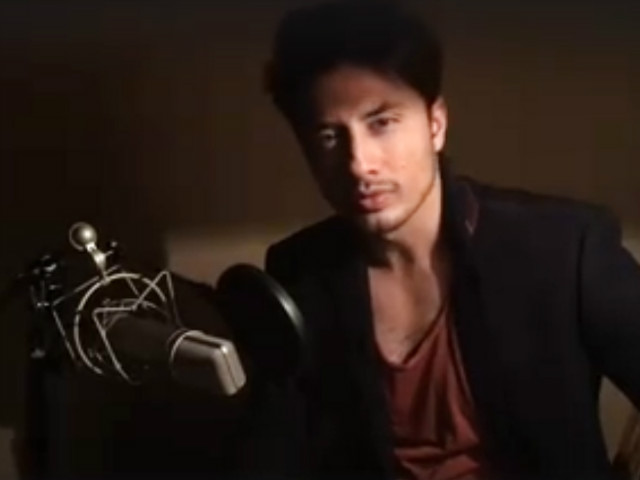 ---
As Taher Shah continues to make waves around the world with his latest single Angel, rockstar Ali Zafar decided to cash in on his fame.

In his latest video, that has now gone viral, Ali can be seen narrating the lyrics of the second hit by the "singing sensation."

For a change, the singer-cum-actor didn't take a dig at the hit-maker. In fact, his dramatic rendition helps us understand Taher Shah's philosophical ideology behind the song, which was recently explained by him in his blog.



And the depth in La La La La...




Taher Shah pens blog to explain 'ideology' behind Angel

Ali later took to Twitter to share his sentiments saying: "Lived through Eye to eye. Couldn't resist this. My rendition of the Angel by Taher Shah."

Lived through "Eye to eye". Couldn't resist this. My rendition of the "Angel" by #TaherShah https://t.co/asJYulw4hV

— Ali Zafar (@AliZafarsays) April 12, 2016


Thank you Ali! It makes sense to us now.

Taher Shah's website is the next best thing to Angel

And of course... every action has a reaction!

Never thought would see this day. https://t.co/RIRodzfPLs

— Ali Zafar (@AliZafarsays) April 12, 2016


We too Ali... we too!




In an interview with a TV channel, Ali explained the reason behind his latest stint.

10 best Twitter reactions to Taher Shah's 'Angel'

When asked if he is impressed or depressed by the viral sensation, Ali said, "You are angel, I am angel, it's our job to be impressed by each other and pull out of depression. So, I had also let it out of my system to end my depression."

"I was passing through a garden with lush green trees and water springs. It was then when I realised that I am an angel too and also a part of the mankind. So, I need to play my part," Ali quipped while explaining the reason behind his "tribute".

Ali praised Taher Shah's efforts saying he is "impressed" by the way he has put his feelings in to the song.

"The concept of the video is quite impressive as well. It has been conceived while keeping three stages in mind."

"He can be seen flying alone and how he changes different costumes throughout the video, I haven't been and won't be able to present such thing in my entire career. I can never reach his level." Ali said.

In his concluding message to Taher Shah, Ali said, "Taher you are an angel and I am an 'ainjul'."

Us right now..




And twiterattis got a new topic!


Am I the only one who finds Ali Zafar's parody a bit tacky? Ok then.

— Sabahat Zakariya (@sabizak) April 12, 2016
RT if you think @AliZafarsays deserves an Oscar for keeping a straight face while reciting #TaherShah​'s #angel song https://t.co/MbwTvK2fLT

— #AchaSorry (@achasorry__) April 12, 2016
hahhahahah of god @AliZafarsays i wonder k aap ke expressions itne normal kaise the... nw it make sense #angel https://t.co/Hvej0Zj5qM

— Amandeep Virk (@avirk15) April 13, 2016
Ali Zafar has made Taher Shah's Angel sound like a work of genius. Hahaha!

— @[email protected] (@AadilPitafi) April 13, 2016

https://twitter.com/azizwashere/status/720086798156730370
https://twitter.com/Rimsha41Rimsha/status/720073361695621121

Admit it or not, we all secretly wish we were Taher Shah!


COMMENTS (7)
Comments are moderated and generally will be posted if they are on-topic and not abusive.
For more information, please see our Comments FAQ