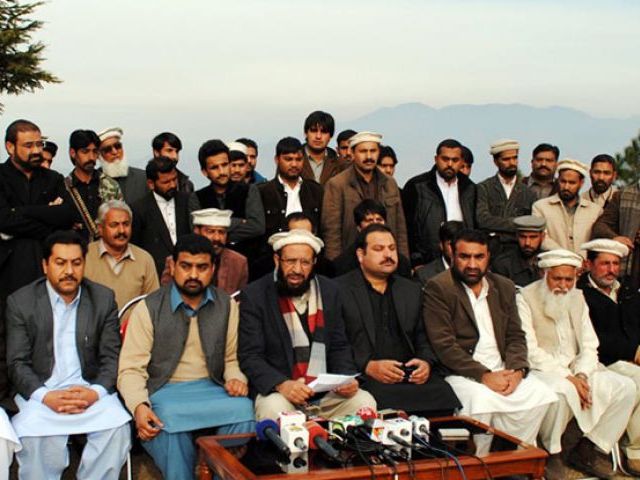 ---
ISLAMABAD: The political leadership of Hazara Division on Tuesday called for a referendum on the creation of a separate province. This was coupled with a demand for the formation of a national commission on new provinces.

The statement was issued during a national conference held at a hotel in the federal capital to mark the sixth anniversary of those slain in the Hazara province movement. Four MNAs; two provincial ministers; MPAs from PTI and PML-N; district leaders of PPP, JUI-F, JUP, APML, JI, Hazara Awami Itehad and Suba Hazara Tehreek were present. Also in attendance were leaders of Potohar and Seraiki tehreeks, local government representatives, ulema and lawyers.

Speaking on this occasion, former foreign minister Gohar Ayub Khan quoted several references from history. He added Hazara was a province from the era of Ahmed Shah Abdali till 1901.

"We demand the restoration of Hazara's status as a province purely on administrative grounds," he said. Gohar stated the creation of new provinces was a popular demand and referred to Afghanistan, Iran, Turkey, Nigeria, Malaysia and India which have smaller federating units.

Former minister of state for finance Omar Ayub Khan said implementing the China Pakistan Economic Corridor would play a vital role in the national economy. He said Hazara's volume of trade and contribution could be in the billions and manifold of what it currently stands at.

Omar said since the population was increasing, smaller federating units were the need of the hour and would promote unity and integrity.

APML central leader Ahmed Raza Qasuri said Pakistan could not afford divisions on linguistic, cultural and geographical grounds. "However, the demand of smaller federating units is purely on administrative grounds and should be respected."

Announcing his party's complete support to a Hazara province, he suggested Balochistan, Sindh, and K-P should be divided into three smaller provinces each, and Punjab should be turned into five smaller federating units.

PML-N MNA Captain (Retd) Safdar Awan said the demand of a Hazara province was genuine and originated from decades-old exploitation despite sacrifices of the region's people.

PTI MNA Dr Azhar Jadoon said he joined the party on the condition that it would support the creation of a separate province. He assured the ruling party in K-P would support the resolution asking for a Hazara province in the National Assembly.

Assistant to K-P CM Mushtaq Ghani said PTI honoured its commitment and adopted a resolution on a Hazara province with majority votes. He asked the PML-N figures to take lead and get the resolution approved by the National Assembly.

Federal Minister for Religious Affairs Sardar Muhammad Yusuf read out the joint communiqué of the conference. Through it, he demanded the formation of a national commission on new provinces.

Published in The Express Tribune, April 13th, 2016.