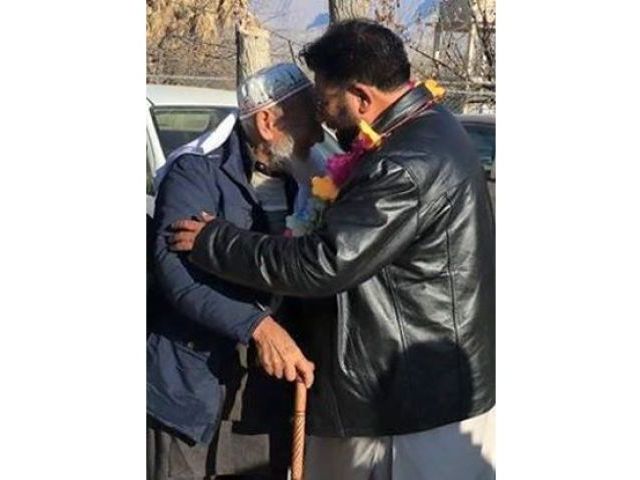 ---
GILGIT: After 44 years, Abdul Ghafoor was reunited with his son after they were separated by the 1971 war between India and Pakistan—both stuck on either side of a newly created border. However, the reunion was short-lived as the father breathed his last on Tuesday, three months before his Indian son's visa to Pakistan was set to expire.

Ghafoor, 82, died in Skardu at his son's home. He and his son Ibrahim Sani met on December 28, 2015 after 44 long years when the latter was granted a three month Pakistani visa, which could be extended for an equal amount of time by the Pakistani Embassy in Delhi. "The separation happened today. Ghafoor is no more," said Musa Chulunkha, a relative.

Man reunites with father after 1971 war

"The scenes at the reunion were heartrending," Chulunkha told The Express Tribune over the phone from Skardu, around 300 kilometres from Gilgit.

Chulunkha said Ghafoor was extremely worried about the approaching separation in July when Sani's visa would expire.

"Ghafoor suddenly fell ill last week after his son received an official letter informing him about the return date back to India. The elderly man knew he was never going to see his son again." The death sent many into a state of grief and they could not hold back their tears. This was most unlike the scenes last December in Islamabad when the waterworks also flew; except they were tears of joy on that occasion.

Ghafoor and his son were separated by a line drawn threw the very hearts of families in Ghanche district of Gilgit-Baltistan during the 1971 war.

Ibrahim Sani was hardly six-years-old when India and Pakistan went to war over what was then East Pakistan. As the war rapidly escalated, the Indian army crossed the line of control (LoC) that divides the Himalayan region into Pakistani and Indian territories, occupying Chulunkha, Tyakshi, Thang and Turtuk of Chorbat village in Ghanche district on the Pakistani side. The morning came and people who used to live in Pakistan were suddenly a part of an area controlled by another nation.

Indian prisoner dies under mysterious circumstances in Pakistani jail

Ghafoor and his family used to live in Tyakshi in Chorbat, close to Ladakh. But by the luck of the draw, Indian forces took over Chorbat and Ghafoor, then 38, was in Skardu. He had left his wife, a daughter and son behind in search of a job. His wife and children, however, woke up to find Tyakshi was an Indian-controlled territory. "This is what we call life. Everyone has to go, but that's not going to be realised by those in the seats of power," said Chulunkha, quoting Sani who was in a state of shock.

Published in The Express Tribune, April 13th, 2016.