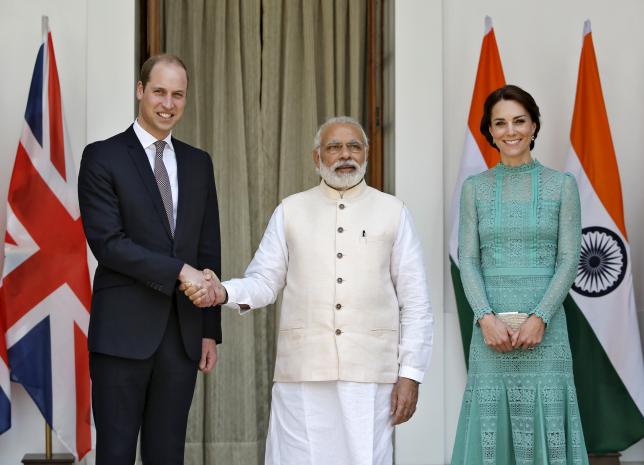 ---
Britain's Duke and Duchess of Cambridge sat down to a musical lunch on Tuesday with Indian Prime Minister Narendra Modi, as they continued a first tour of India that has featured a cricket game with slum kids and a glittering Bollywood gala.

Britain's William and Kate play cricket on India tour

Modi welcomed Prince William and wife Kate on the steps of Hyderabad House, once a princely residence and - like many buildings in New Delhi - designed by British architect Sir Edwin Lutyens.

Kate wore a knee-length light blue dress, William a dark suit and tie, while their host - an observant vegetarian - appeared in a traditional white kurta and cream waistcoat.

Indian sources said the four-course lunch featured Indian "veg" and "non-veg" cuisine but, citing protocol, declined to specify the dishes served. Renowned Indian classical musician Rahul Sharma played the santoor - a kind of dulcimer - rounding off his performance with the Beatles classic "Let It Be".

The couple have spent much of their three days in India meeting children and charities that work with them. On Tuesday, they visited a shelter of the Salaam Baalak Trust that provides support and shelter for street kids in Delhi and Mumbai.

Bollywood stars to dine with William and Kate during India tour

But there's been glamor too, with A-list Bollywood film stars led by Shah Rukh Khan and former Miss World Aishwarya Rai turning out on Sunday night for a charity gala in Mumbai.

William and Kate wielded a sword at the British High Commissioner's residence on Monday night to cut a cake to mark the forthcoming 90th birthday of Queen Elizabeth.

After paying tribute to his grandmother as "an energetic and dedicated guiding force for her family", William read a message to the Indian people from the Queen.

Striking a lighter note, he concluded: "Now I can report back to Granny that I have done my duty!"

The week long tour will take the royal couple to see the famed one-horned rhinos in Assam's Kaziranga National Park, on to the isolated kingdom of Bhutan before returning to India on Saturday to visit the Taj Mahal.