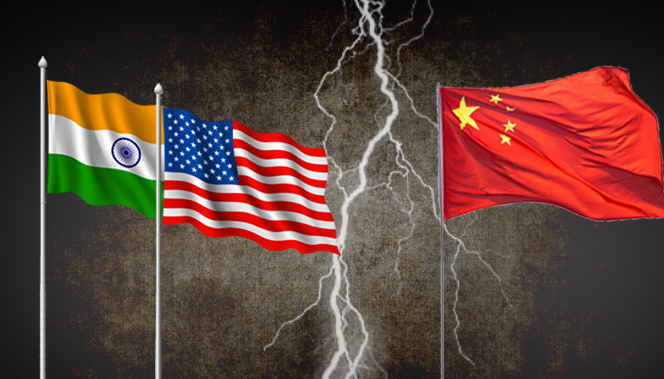 ---
NEW DELHI: US Defense Secretary Ashton Carter will meet Indian leaders in New Delhi later Tuesday, seeking to bolster a strategic relationship Washington sees as crucial in the face of China's growing military ambitions.

Carter will hold talks with his Indian counterpart Manohar Parrikar and with Prime Minister Narendra Modi during the visit, aimed at shoring up security and defence ties with the regional power.

Washington has increasingly turned its focus to Asia as it tries to counter China's growing assertiveness in the South China Sea, and is eager for India to play a greater role in its network of regional defence alliances.

Defence cooperation: Pakistan and China launch joint air drill

India, the world's biggest arms importer, wants access to US technology so it can develop sophisticated weapons at home -- a key part of Modi's "Make in India" campaign to boost domestic manufacturing.

"Both our values and our interests overlap in so many important ways, and that happens with few countries around the globe," Carter told reporters late Monday in India.

A senior US defence official, speaking on condition of anonymity, said China was "operating more frequently both throughout Southeast Asia and in the Indian Ocean", something both Washington and New Delhi were "watching closely".

Modi, who enjoys close ties with US President Barack Obama, has criticised what he called China's "expansionist mindset".

Regional superpower China is expanding its deep-water naval presence and staking a claim to disputed areas of the South China Sea and the East China Sea.

Beijing claims almost all of the contested South China Sea, which is important for international shipping, and has in recent months built massive structures including radar systems and an airstrip over reefs and outcrops.

It has also courted countries in the Indian Ocean, pouring money into the Maldives and Sri Lanka -- where it funded the construction of a deep-sea port.

Air forces of Pakistan, China launch joint training exercise

India, which has historically relied heavily on Russia for arms imports, is seeking US help to develop its own new-generation aircraft carriers.

New Delhi wants American know-how on building more sophisticated launch technology that would allow it to deploy heavier aircraft on the vessels than existing carriers allow.

The US is also hoping to sell its F-16 or F-18 fighter jets to India as part of a major co-production deal involving more than 100 planes which would be partly manufactured in India.

Washington is also hoping to finalise a military logistics agreement with India that has been in the pipeline for years and would allow the two countries to expand military cooperation in the region.

"It is an enabling agreement that would facilitate us to do a number of things together from exercises to contingencies," said a senior US defence official, speaking on condition of anonymity.