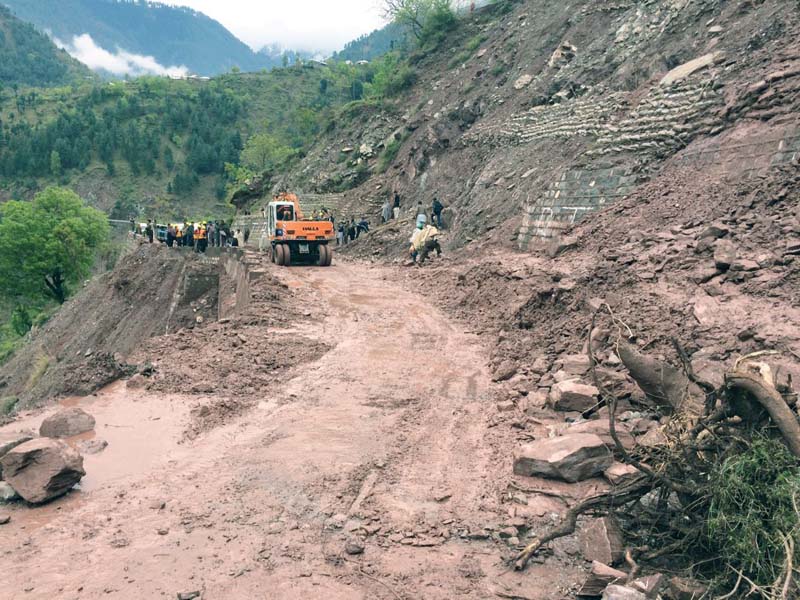 ---
BALAKOT, CHITRAL, GILGIT:



With the Karakoram Highway (KKH) damaged at over 200 places due to landsliding after the recent spell of rains and powerful earthquake, as many as 100 foreigners and other tourists got trapped at the Kaghan hill station. Two persons were also killed following a landslide in Chitral.




Locals and police told The Express Tribune that a group of over 100 Thai nationals, most of them women, were picnicking in the Kaghan Valley.

Rescuers search for 23 in Kohistan landslide; flood toll at 92

At around 11:30am on Monday, after a two-day stay at the scenic Shogran hill station, they were returning to Islamabad in five coasters when heavy landsliding near Jamu Naka village, around 25 kilometres from Balakot, blocked the Kaghan Highway and stranded them.




Balakot Assistant Commissioner Ruman Borhana told The Express Tribune that the tourists were safe and had plenty of food stuff with them. He added that heavy machinery was used to clear the road.

Balakot SHO Arshad Khan described the landsliding as heavy since a part of the hill had fallen. He added that a heavy contingent of police had been deployed to guard the tourists.

After remaining trapped for nearly four hours, the tourists were able to continue their journey on to Islamabad as officials managed to clear the road on Monday afternoon.

The Thai nationals had apparently chosen to visit Shogran after their primary destination of Gilgit proved inaccessible due to heavy landsliding along the KKH.

Heavy rains in the region, which started on April 2, triggered landslides on the highway and link roads, damaging infrastructure in most parts of Kohistan. According to the police, the KKH was initially blocked at 19 places and was mostly cleared by Frontier Works Organisation. But a fresh spell of rain over the weekend triggered further landslides damaging the KKH.

"This is the worst calamity the region has faced," Parliamentary Secretary on Law Aurangez Khan told journalists in Gilgit on Monday.

"The KKH alone has been damaged at over 200 places."

Khan added that the roads have been cleared up to Dasu in Kohistan where officials were working to clear up a major blockage.

Two killed in Chitral

Landslides in Ushreat Darwesh area of Chitral killed a mother and her daughter on Monday, a day after a powerful earthquake had rocked the area.

Site of landslide in Kohistan declared communal grave

Locals said that Imtiaz Mehel Waseem's wife and daughter Sidra were trapped in the landslide. After a rescue effort, their bodies were recovered and shifted to a hospital. Their deaths raise the toll from Sunday's powerful 6.6 magnitude earthquake to eight.

Many houses were damaged while the Kalash Valley Road, Chitral-Booni road, Garam Chashma Road and others were blocked due to landsliding triggered by the earthquake.

The roadblocks caused by landsliding have given rise to fears of food and fuel shortage in the Gilgit-Baltistan region.

Gilgit's parliamentary secretary on law, however, dispelled fears, adding that they have enough wheat stock.

Published in The Express Tribune, April 12th,  2016.
COMMENTS
Comments are moderated and generally will be posted if they are on-topic and not abusive.
For more information, please see our Comments FAQ