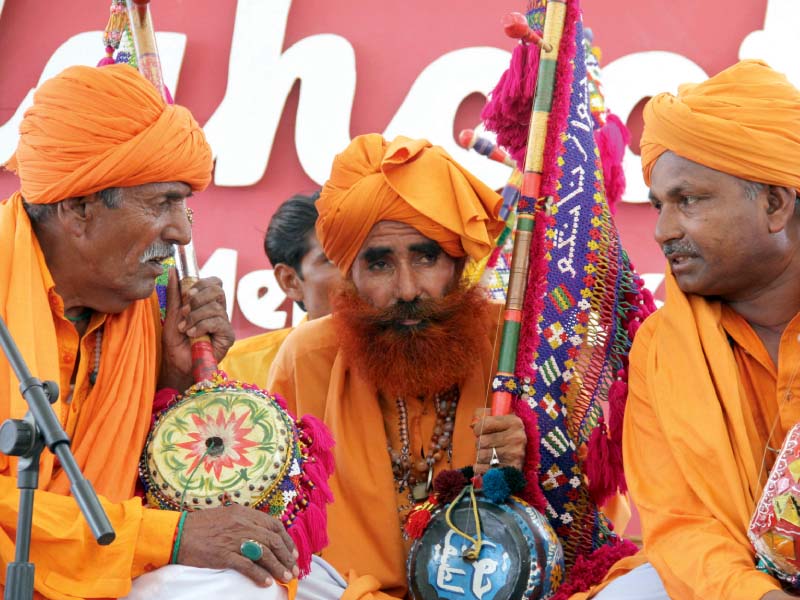 ---
HYDERABAD:



Folk music, the reference evokes the art of the rural inhabitants who use traditional musical instruments and sing regional poetry describing tales of folklore. But as the evolutionary journey of music progresses, the term is finding a new meaning.




"Folk music doesn't [necessarily] mean village music. It's actually music of the people of anywhere," said Arieb Azhar, a vocalist and guitar player whose last music album 'Wajj' featured lyrics of Bulleh Shah and Khwaja Ghulam Farid, among others. He was one of the six panellists discussing 'music appreciation' in the first session on day one of Lahooti Melo 2016 at Hyderabad Club.

Preaching peace: The impact of Sufis on society

Azhar also bewailed that 'mirasi' [a traditional reference to singers] has become a derogatory word in the society. "But the fact is that if they hadn't existed, we wouldn't have even known our history, our folk stories, the poetry of Shah Bhitai and Bulleh Shah." He asserted that he will feel pride if people called him a mirasi.

Tharparkar's classical folk singer, Mai Dhai, who was catapulted to fame by Coke Studio thanks to Lahooti Live Sessions which introduced her in the mainstream, has emerged as a known manganhar [singer] from Sindh.

Moderator Madeeha Syed questioned what appreciation meant to the musicians. Farhan Bogra, rubab virtuoso from Khyber-Pakhtunkhwa, sighed looking at the multitudes seething the ground of Hyderabad Club. "I wish we could gather so many people in Peshawar," he said, pointing out that the huge participation itself embodies appreciation.

For music producer Faisal Rafi, recognition is incomplete if it comes only from the listeners. "The music composers should also feel from the heart that they have really produced some original work which is worth it."

Fakir Zulfiqar Loond of Badin believed that music comes from inside. "It's when the musician in your soul sings."

Ahsan Bari said music is something which sounds good to the ears. He suggested people to listen attentively to every piece of music even if at first instance it fails to draw your interest. "Becoming a good musician is a self-exploratory journey. The greater the exploration, the better the production," said Bari.

Bogra advised the listeners to try to connect with the background music of instruments if they do not find the lyrics interesting. "You can only enjoy and understand both lyrics and music when you begin to connect yourself with them."

Replying to an audience member's query, the panellists supported the idea of teaching music at schools and suggested both parents and students to press the school management for this education. Bogra said he is starting online sessions of rubab playing in a month and asked the interested people to enrol.

Making money off music

Another session on the first day of Lahooti Melo 2016 shed some light on music albums and the way forward for Pakistani music industry. Pakistani listeners are used to free music, which is detrimental to the industry's growth, observed musician Abbas Ali Khan. "There is a need to sensitise the music admirers on why they should buy an album and what good it contributes for music making."

Although unhappy with the trend of free access to new production, Khan found some hope in web portals, such as Taazi.com, Patari.pk and Saavn.com. According to him, these websites provide free access to the listeners but they pay the music producers for each click on a song from their album.

"You don't have to pay on these web portals. And, interestingly, about 90 per cent of the latest Pakistani production is available there for free."

Khan, whose latest album 'Tamaam Alam Mast' [entire universe in ecstasy] was released in the Sufi genre, said that he sold some 2,000 copies online through payment on delivery mode.

But for video and music producer Zohaib Kazi, the music industry does not exist in Pakistan. "What we see is a music scene [not industry]," he accentuated. This perception, he told, motivated him to work to produce good quality music aimed at drawing the people.

For new aspirants, Khan did not shy away from the stumbling blocks facing musicians, such as finances, security threats and an element of music hatred. Disputing his stance, Kazi advised the aspiring youth to venture into the profession and be willing to take risks. "When hitting a six, a batsman has to leave his wicket [knowing he could be bowled out]," he observed.

Sohail Javed was critical of what he described as the risk evasion of Coke Studio from exploring new talent and new music. "They ought to go beyond where they already are."

But Kazi disagreed. "When Coke Studio started in 2008, the country was in turmoil, extremism was touching its peaks and the phase of power transition through the elections was underway," he pointed out. "In such circumstances, they came forward and promoted the traditional and Sufi music."

For the love of culture: Festival attracts hordes of art enthusiasts

Saif Samejo, the festival organiser and man behind the Lahooti Live Sessions, spoke about the influence of Shah Abdul Latif Bhitai's fakir, who sang in a choir at his shrine, on his own endeavours. "On some days you would notice that there is hardly anyone around listening to their music and singing. Yet they go on performing the same way they have been taught." Composer and Singer Zoe Viccaji said that she began composing lyrics at the age of 16. "Then I thought to put them all in one album but it was never intended for marketing." She added that self-exploration and the joy of music making remained her inspiration.

Bridging gaps

Saif Samejo, organiser of Lahooti Melo 2016, kicked off the last session on the second day of the music festival by asking the panellists to share how music can connect people across cultures.

"Music transcends cultures. It transmits feelings. It's a universal language," commented Jono, a US-based singer and song writer, who participated via Skype. For him, collaboration with Samejo over a song, 'Main Sufi Hoon' [I am a Sufi] based on a mix of Sachal Sarmast's and Bulleh Shah's poetry, was also a depiction of such cultural transcendence.

"Saif played in Jamshoro and I sat in the US and together, through online sharing [of the recordings], we created that song," he said.

Musician Arieb Azhar said music and spirituality are two inseparable components. He mentioned his stay in Croatia where dislike for him as a Pakistani soon turned into fan following, thanks to music. "Music can demolish the artificial walls of religious, national or ethnic segregation," he said.

Nepali monk Chogyal Rinpoche spoke of spiritual healing power of music. "When I start chanting mantra, I intend to heal my soul and that of the listeners," he said. Sparlay Rawail, guitar player of KP music band Khumariyan, regretted that bomb explosions and terrorism have found mention in KP's folk music. The people, he added, nurture a dislike against the West and neo-imperialism and so it translates into similar feelings against Western music.

Published in The Express Tribune, April 12th, 2016.