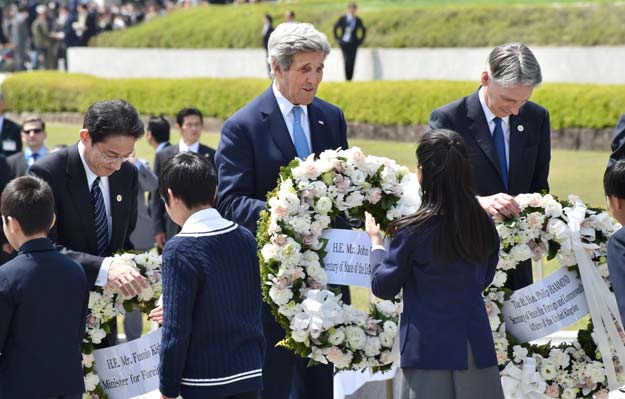 ---
HIROSHIMA, JAPAN: US Secretary of State John Kerry said Monday he was "deeply moved" by his visit earlier in the day to the Hiroshima atomic bomb memorial in the Japanese city.

"I want to express on a personal level how deeply honoured I am, how deeply moved I am" to be the first US secretary of state to visit the memorial, he told reporters.

Kerry plans no apology for wartime atomic bomb on Hiroshima visit

He described the memorial as "extraordinary" and called it a "gut-wrenching display that tugs at all your sensibilities as a human being".

Kerry was the highest-ranking US administration official to pay respects at the spot where American planes launched the world's first nuclear attack, in 1945.

Asked what kind of message he wanted to send by making the visit, he said: "Everyone should visit Hiroshima, and everyone means everyone."

Kerry pays landmark visit to Hiroshima atomic bomb memorial

Kerry visited the memorial with other Group of Seven foreign ministers who were wrapping up a two-day meeting in Hiroshima before a G7 summit next month elsewhere in Japan.
COMMENTS
Comments are moderated and generally will be posted if they are on-topic and not abusive.
For more information, please see our Comments FAQ