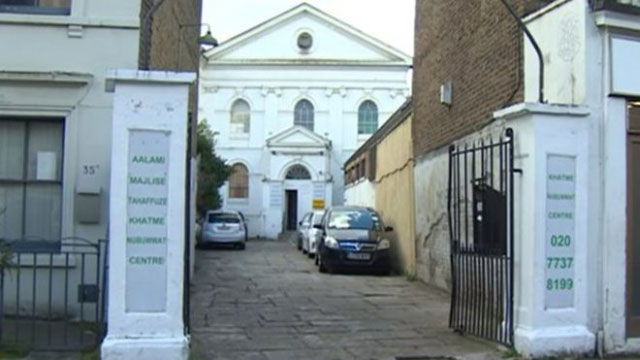 ---
Leaflets calling for the killing of Ahmadis have been found in a London mosque, according to BBC News.

The flyers, which say Ahmadis should face death if they refuse to convert to Islam, were displayed in Stockwell Green mosque in London. The leaflets are believed to have been authored by Yusuf Ludhianvi, ex-head of Khatme Nabuwat, a group which lists the mosque as its overseas office. A mosque trustee, however, denied having seen it before and suggested they were fakes or left there with malicious intent.

Motives unknown: Ahmadi man shot dead in Rabwa

Four trustees of the charity listed in the documents manage the mosque, while two of the current owners of the mosque run centres affiliated to the group elsewhere in the UK. The mosque is also listed as an "overseas office" on the group's website for Khatme Nabuwwat.




The leaflets state, "Those who refuse to convert to mainstream Islam within three days should face a "capital sentence" -- or death penalty." Written in English, the leaflets were found arranged in piles on a desk next to a shoe-rack, the usual place to display literature in mosques.

In 2011, the Stockwell Green mosque was accused of helping to promote acts of terror and hate in Pakistan, prompting a vehement denial from its then trustee Toaha Qureshi who claimed the mosque's name had been "falsely used" on a website listed on hate literature advocating the murder of Ahmadis.

Ahmadi man stabbed to death near Sheikhupura

"We are very angry and furious about that. We do not have any linkage with this organisation that is promoting hate," Qureshi said, claiming the mosque was an independent organisation which did not take any dictation by anybody.

Regarding the latest discovery of leaflets and alleged links between the mosque and Khatme Nabuwwat, Qureshi upheld, "There is a link that we only need when we need some guidance or literature on that particular issue, then we seek advice from them."

"We have not published any pamphlet of that kind. This is nothing to do with our mosque. Someone might have put it there and taken from there with malicious intentions," he added.

The incident comes in the wake of the killing of Ahmadi shopkeeper Asad Shah, in Glasgow last month, which police claimed was "religiously prejudiced". Tanveer Ahmed, 32, from Bradford, who is accused of his murder, said he killed Shah because he disrespected Islam and falsely claimed to be a prophet.

One dead as bomb rips through Ahmadi place of worship in Bangladesh

While there is no suggestion Khatme Nabuwwat was involved in the killing, two videos on a video-hosting channel with the same name as the group described Shah as a "false prophet" in 2014. Ahmed has made no plea, and is remanded in custody until his next court appearance.

This article originally appeared on the BBC.