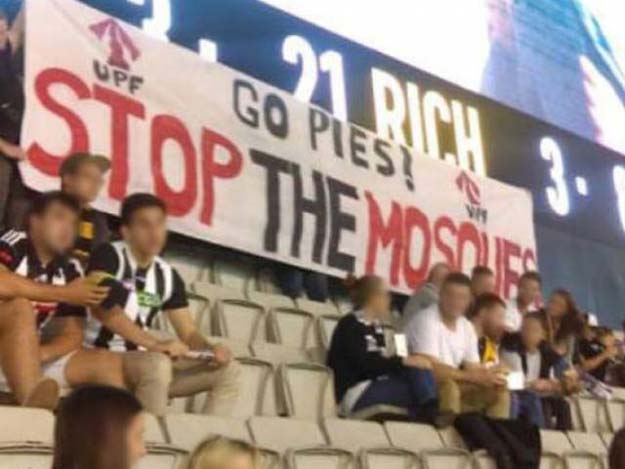 ---
Four people were ejected from an Australian Rules game in Perth on Saturday after an anti-mosque banner was unveiled at a Western Australian derby, local media reported, the second such incident in eight days.

A banner reading "Go WCE, Stop the Mosques" was unveiled for a matter of seconds during West Coast Eagles' 33-point win over the Freemantle Dockers at Domain Stadium on Saturday.

Australian Football League slams anti-mosque banner at Melbourne game

Last week, the Australian Football League (AFL) and the Collingwood club condemned fans who hung up a banner reading "Go Pies! Stop the Mosques" during a game at the Melbourne Cricket Ground on April 2.

The West Australian Football Commission and AFL, Australia's most financially successful professional football league, said they would take action following the Perth incident.

"We will be working with police and the AFL to ban these people from returning to Domain Stadium," WAFC acting chief executive Gavin Taylor was quoted as saying by local media.

"This type of behaviour is completely unacceptable and will not be tolerated."

Muslims in Australia three times likely to face racism than others: study

Islam is the third largest religious grouping in Australia with around 500,000 adherents in a population of more than 23 million.

The AFL asked for the identity of the group responsible for the banner to be kept out of the media.

"The views do not represent our game in any way and the AFL would ask media and public not to give the group the publicity they are craving," AFL representative Patrick Keane told the local media.