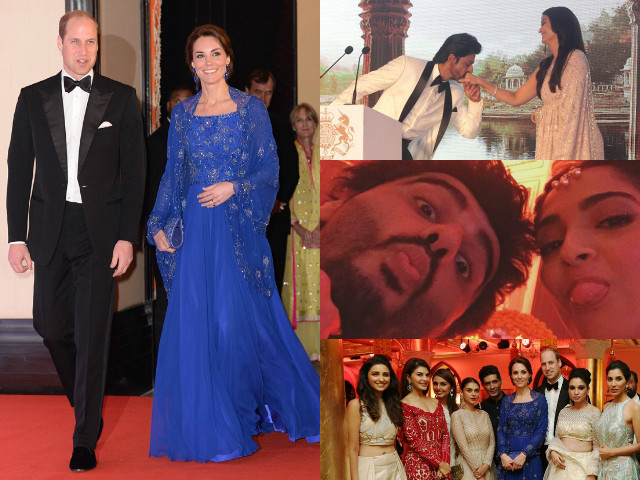 ---
All eyes were on Prince William and Kate Middleton as they commenced their maiden visit to India on Sunday.

After a game of cricket, followed by an open-bus tour, the Duke and Duchess of Cambridge were treated to a star-studded gala dinner in Mumbai. The event was held at The Taj Mahal Palace Hotel to generate funds to support under-privileged children across India.




Bollywood A-listers including Shah Rukh Khan, Aishwarya Rai Bachchan, Madhuri Dixit and many others were awestruck as the royal couple sashayed down the red carpet on the grand night.

What happens when Bollywood royalty meets British Royalty? Here are ten highlights from the grand night:

1. Caution! Stars also receive warnings

It's hard to believe that superstars would be asked to behave themselves, but it's true!

Just before the arrival of the royal couple, Bollywood's crème de la crème received a warning from British High Commissioner, Sir Dominic Asquith.

"I'm told you're a rowdy bunch!"he said adding, '"We need to make sure they enjoy the experience as they want to meet you all. I say that in the hope you will be very kind to us and stay in your groups around the tables instead of coming, quite understandably, and besieging them. We will bring them to you," reports Dailymail.

No wonder King Khan looks worried here!




2. Kate's Indian twist 

While many hoped to see Kate in a traditional Indian saree, the Duchess instead opted for one of her favourite designers, Jenny Peckham. She framed her stunning figure in a royal blue gown with a pinch of Indian influence. The gown was especially beaded in India in honour of their royal tour of the country, reports Dailymail.

She paired her dress with matching earrings by Indian jewellers Amrapali.




3. Bollywood divas channel their inner princess

Sonam Kapoor looked like a Mughal princess in Eliesaab while modern-day princess Alia Bhatt flaunted a Manish Malhotra dress.




Britain's William and Kate play cricket on India tour

4. Shah Rukh, Aishwarya's Devdas moment

The Devdas couple reunited as they welcomed the royal couple on the red carpet as well as on-stage.




But they couldn't miss out on their very own Paro-Deva moment - Aish offered a hand to be kissed by King Khan.




5. Is the Royal couple vegetarian?

The dinner menu was elaborate, offering a feast fit for the King (or Prince). It offered a Maharaja's thali (traditional Indian meal) with both vegetarian and meat options.




Kate and William opted for vegetarian dishes including mushroom and pea curry, vegetable kebabs, spinach and corn curry, paneer, cauliflower rice, red lentil dahl and traditional Indian sweets (gulab jamun, kesari rasmalai and paan kulfi), reports Dailymail.

We also can't take our eyes off the royal decor done in marigold.




Bollywood stars to dine with William and Kate during India tour

6. Royal discussions - SRK is all about his kids!

Here's what they talked about according to Dailymail.

Shah Rukh: 'This was the first time I'd met them. He was taking about the collaboration of the British and Indian film industries. I was talking about my kids who are studying in London.

"It's a very short visit and I said they should come back and spend longer here. They said they'd love to but they'd had to leave their children at home as their schedule was so jam-packed."





Madhuri commented, "We talked about Indian movies and how they're getting popular everywhere."


"The Duke said he hadn't watched any Bollywood movies but... the British film industry was and interested in a collaboration."




"The Duchess said she loves being here and the people are very welcoming this time, but she was worried she may miss her children."

7. But first.. let me take a selfie

Being in the same room as Britain's Royals didn't change the rules for Sonam, Arjun Kapoor, Parineeti Chopra and Alia, who were on a selfie spree.

The youngsters were spotted goofing around as they took to social media. Parineeti tweeted: "Meeting royalty but goofing around ;) @aliaa08 #RoyalVisitIndia."

Meeting royalty but goofing around ;) @aliaa08 #RoyalVisitIndia pic.twitter.com/lmCuvu6df7

— Parineeti Chopra (@ParineetiChopra) April 10, 2016


Even Karan Johar didn't mind clicking one.
https://twitter.com/karanjohar/status/719411241463128064

And special thanks to Sonam for taking us inside the royal gala through her Snapchat.
https://www.instagram.com/p/BECGBCHR8er/

The fashionista went all out singing Daft Punk hit Get Lucky, did thumkas to her 2014 film Khoobsurat's party number Abhi toh party shuru hui hai and belts out Subah Hone Na De with other guests at the party.
https://www.instagram.com/p/BECDY5CqCaH/

Guess cousin Arjun isn't liking it!

Retarded !!! @sonamakapoor ur snapchats are going viral now !!! https://t.co/Mgdc9Juctn

— arjunk26 (@arjunk26) April 10, 2016


Meanwhile, other actors including Jacqueline Fernandez, Huma Qureshi, Aditi Rao Hydari and Sophie Choudry struck a pose with Prince William and Kate.




8. Shankar Mahadevan performed with son

The ace Bollywood singer earlier tweeted that he was 'excited' to perform for the Royal couple with his son Siddharth.

Excited to perform with siddharth for the Royal Couple , Prince William and Kate tomorrow night !!! Followed by the gala dinner !

— Shankar Mahadevan (@Shankar_Live) April 9, 2016
Brilliant @Shankar_Live & @sid_mahadevan sing together at dinner for TRHs in #Mumbai @UKinIndia @FarOutAkhtar pic.twitter.com/AbjDK7TFbi

— Bharat Joshi (@BharatFCO) April 10, 2016


Shiamak Davar's dance troupe entertained the audience after dinner.




Prince William and Kate enjoy family skiing holiday

9. Visiting India was Kate's first wish post wedding

In his concluding speech for the Royal gala, Prince William greeted his guests with the Hindi namaste and revealed that India had been at the top of his wife's list of places she wanted to visit.

He said: "When Catherine and I were married, India was the first place on Catherine's list that she told me that she wanted to visit. Two children and five years later, we have finally made it – and we are both honoured to be here," reports Dailymail.

The Duke gave a speech to conclude the Charity Gala #RoyalVisitIndia pic.twitter.com/xmRMSHcZIZ

— The Prince and Princess of Wales (@KensingtonRoyal) April 10, 2016


10. Celebrity reactions

The royal couple has definitely left a lasting impression on the superstars as they took to Twitter to share their experience after the grand night.

Shah Rukh tweeted: "The Royal couple was so gracious & full of poise. Tonite as I said is the nite of the King the Queen & the Knights. Wish all nites were same."

The Royal couple was so gracious & full of poise. Tonite as I said is the nite of the King the Queen & the Knights. Wish all nites were same

— Shah Rukh Khan (@iamsrk) April 10, 2016


"It was a pleasure meeting their highnesses, William and Kate. Very gracious and down to earth," Madhuri tweeted after the event.

It was a pleasure meeting their highnesses, William and Kate. Very gracious and down to earth. pic.twitter.com/VI3qaqwQAd

— Madhuri Dixit Nene (@MadhuriDixit) April 10, 2016