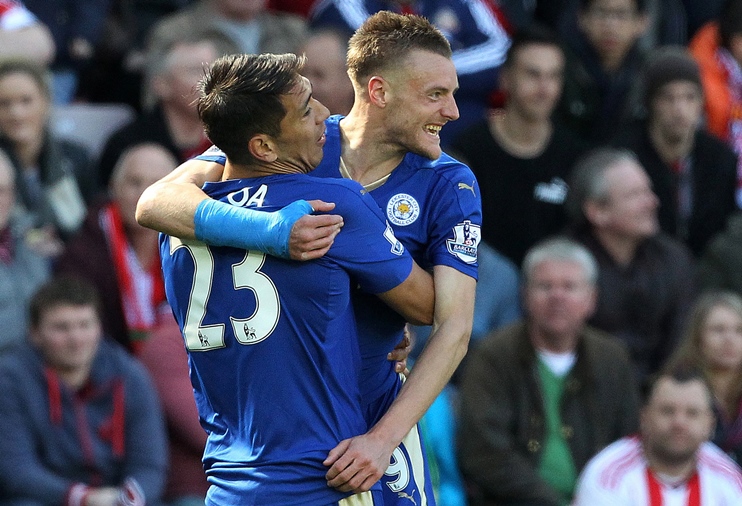 ---
SUNDERLAND: Leicester City manager Claudio Ranieri played down his emotional response after the Foxes took their latest big step towards the English Premier League title.

Ranieri left the pitch in tears after Jamie Vardy's second-half double sealed a hard-fought 2-0 win at relegation-threatened Sunderland on Sunday.

Leicester ended the day seven points clear of second-placed Tottenham Hotspur, with the 5,000/1 pre-season outsiders' fairytale journey towards the title showing no sign of ending any time soon.

Ranieri keeps calm amid Leicester maelstrom

Now, if City win three of their five remaining league games they will be crowned champions of England for the first time in the Midlands club's 132-year-history, regardless of what Spurs, or any of the chasing pack, do in the closing stages of the campaign.

"It's difficult to express what I feel inside," said Ranieri who, after his initially teary response, dedicated the Foxes' fifth consecutive victory to Leicester's 2,500 travelling fans at the Stadium of Light.

"I really want to thank our fans. Today, when we arrived at the stadium, it was like we'd moved Leicester to Sunderland," the Italian added.

Title race heats up: Pochettino refuses to write off chasing pack

"For me I don't think I showed any more or any less emotion today, but I'm just so happy with this victory against a very tough Sunderland side who made it hard for us."

Ranieri again refused to let himself be carried away by the euphoria surrounding Leicester's title bid, rejecting the notion that the Premier League trophy is already on its way to the King Power Stadium despite that now being its most likely destination.

Leicester next play top-four hopefuls West Ham at home on April 17, where they will look to extend a clean sheet record that stretches for more than eight hours.

"People can say we're going to win the title, that's fine for them to say it, but it's important for us to now focus on the next match," Ranieri explained.

"For now we're happy, but from tomorrow (Monday) again we focus on the next match because we know what a good team West Ham are."

The former Chelsea manager added: "When I speak with the players, my message is the same every time. It has been all season and to be fair to them, they have listened to what I've said. We focus on the next match, regardless of whether we've won or lost the last one.

"We have Champions League qualification on the table, but at this stage, nothing more."

Third-bottom Sunderland are four points adrift of safety after they were twice caught on the counter-attack by England striker Vardy, who scored in open play in the Premier League for the first time in two months to take his tally for the season to 21 goals.

"I'm very happy for Jamie because he's not scored for us in the past few weeks, though he's made some great assists," said Ranieri. "At half-time I told him 'I need you' and he came out and scored two goals for us."

Sunderland face a crucial trip to fourth-bottom Norwich on April 16 as they bid to prolong their decade-long stay in the top flight.

"My disappointment is not so much today, because we've given a good account of ourselves against the top of the league side," said Sunderland manager Sam Allardyce.

"My disappointment is the points we've thrown away in three or four games this season and that's the problem we're suffering from now.

"The key for us is that we can't afford to lose at Norwich because we have a game in hand on them. They'd be seven points clear of us if we lose, so that can't happen," he added.
COMMENTS
Comments are moderated and generally will be posted if they are on-topic and not abusive.
For more information, please see our Comments FAQ