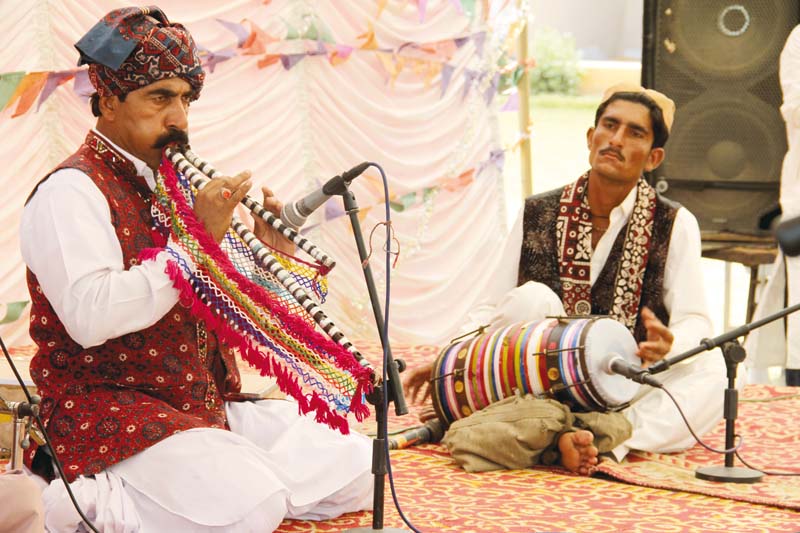 ---
HYDERABAD:



The weather was pleasant and it drizzled before excited chatter and music rained over the audience that gathered in an open ground for the Lahooti Melo 2016. The festival put forth a feast for music lovers, provided a platform for the convergence of mainstream and folk musicians and the audience appeared to be yielding itself to this fusion of rural and urban music.




"We wanted to provide a music festival with some enthralling performances to the people of Hyderabad," said Saif Samejo, producer and lead vocalist of Jamshoro-based Lahooti Live Sessions - a forum which records and releases folk songs and tunes of indigenous musicians - while opening the festival on Saturday evening at the Hyderabad Club.




Despite the programme starting two hours after schedule, all sessions on the first day's agenda were completed.

Fakirs of Shah Abdul Latif Bhitai, who perform in a choir, with each playing dambur, a five-string instrument modified by Bhitai, and singing Bhitai's poetry, got the show under way.

Two panel sessions titled 'Music Appreciation' and 'Music Album and Way Forward to Pakistani Music Industry' were hosted before Sheema Kirmani and her troupe took to the stage for a captivating performance.

In an attempt to mitigate the impatience of the audience for unbridled music and singing, Samejo launched his new album, 'Tu [you]', amid a horde of artists surrounding him on the stage.

"It's the first time I have watched Kirmani live. I thank Lahooti for bringing her and many other urban and rural artists to our city," said Shimail Shaikh, a university student, while talking to The Express Tribune.

The participants appeared less eager during the sessions, debating things which music encompasses these days. "We don't even know many of the panellists. They seem young and inexperienced," commented Abdul Majeed, a middle-aged man sitting in the audience. He pointed out that even Kirmani and senior artists like Juman Shah of Bhitai's fakirs did not join the panel discussions.

Published in The Express Tribune, April 11th,  2016.