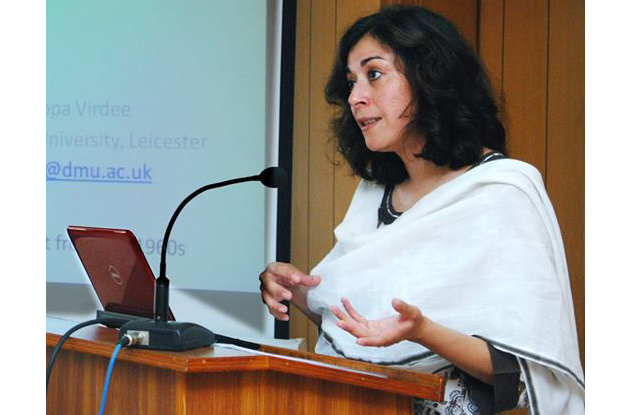 ---
LAHORE: The Partition of India has been a contentious subject. The nationalist narratives of the event have overtime marginalised all other accounts of violence and mass migrations that had taken place as a result of the Partition of the Indian sub-continent.

Among these are the experiences of women, said Pippa Virdee, a professor at the School of Humanities at the De Montfort University in the United Kingdom, during an interview with The Express Tribune.

"Sexual violence faced by women and the stigma around it has been covered in various works of fiction. The underprivileged classes often don't have tools to write about their experiences. Fiction, then, offers accessible representations of events that are not discussed otherwise," she said.

Sexual violence, she said, was an issue most women did not want to be associated with. She said she had never spoken to a survivor of sexual violence from the Partition. "When I asked around, I found some people who knew some survivors but they never mentioned their names. They referred to them in third person, preferring to distance themselves from the victims."

Virdee said taboos surrounding the issue had not banished. "These taboos were especially stifling when India and Pakistan were trying to resettle women. Both states said these were their daughters and must be accepted. Despite this, it was difficult for families to take these women back. These were soiled women so how could they be accepted and reintegrated in the family?" she said.

She said the experience of Partition differed among women because of their class backgrounds. "Those from elite backgrounds knew what to expect but the common woman was caught by surprise."

Travelling to a new country and resettling there had directly affected the way women from different classes experienced the Partition. "Women were more likely to be targeted if they were travelling by train or in a caravan," she said.

"The common woman had no time to prepare for the migration. Many didn't want to migrate either. Some of them were forced to flee and some left with the view that they'd return after the dust settled," she said.

"In contrast, many from the ruling classes had had time to transfer property," she says.

These differences also impacted the way people would talk about their experience, Virdee said.

"If you talk to women from elite backgrounds, you are offered a slightly different perspective. They are more articulate and expressive. There is definitely a class or literacy dimension to their stories," she said.

Virdee said in part the female narrative of the Partition was lost because women from all sections of the society did not feel they had anything important to contribute.


Oral histories, Virdee said, might offer greater insight into the female narratives of the Partition. "This resource will not last long. When I was doing my research, one could still find some survivors of the violence during Partition but next year we will be commemorating 70 years of independence. Stories of what happened such a long time ago will really now be passed to a new generation," she said.


Published in The Express Tribune, April 11th,  2016.
COMMENTS
Comments are moderated and generally will be posted if they are on-topic and not abusive.
For more information, please see our Comments FAQ