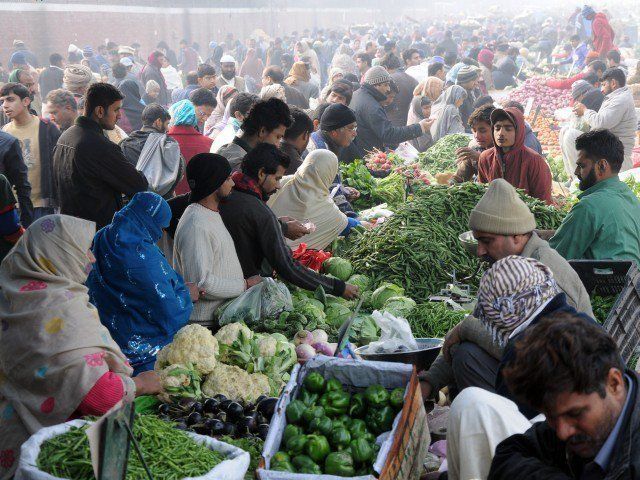 ---
LAHORE:



The prices of most seasonal vegetables at Sunday Bazaars in the city were lower compared to last week.




According to the price list,prices of most vegetables had lowered by five to 37percent. The maximum – 37 percent –decrease was recorded in the prices of Chinese and native garlic; it soldfor Rs100to Rs110 a kg.

The price of cabbage was lower by 33 percent as the vegetable wasavailable for Rs8 toRs10 a kg. The price of capsicumwitnessed a 27 percent decrease; the produce was sold for Rs30 to Rs40 a kg. The price of green chillies (native) was lowerby 23 percent and sold for Rs50 a kg.

Indian garlic sold for Rs110 to Rs115 a kg following a decrease of 21 percent in its price. The price of brinjalswent down by 20 percent and the vegetable sold for Rs15 toRs20 a kg. The price of spinach witnessed a 17 percent decline and was soldfor Rs15to Rs20 a kg.

Prices of bitter gourd went downby 10 percent and sold for Rs25 toRs35 a kg. The prices of cauliflower and moongraywere lower by 10 percent to Rs15 to Rs18 and Rs40 to Rs45 a kg, respectively. Price of lemons (Chinese) were also lower at Rs50 to Rs60 a kg.Tomatoessold for Rs35 to Rs40 a kg.

The prices of carrots, cucumber, ginger (Chinese), okra, methi (fenugreek), potatoes, radish and taro roots (arvi)remained stable. Carrotssold for Rs15 to Rs18 a kg,cucumber Rs15 to Rs20 a kg, ginger (Chinese) Rs85 to Rs90 a kg, okra Rs100 toRs110 a kg, methi Rs10 to Rs15 a kg, potatoes Rs10 to Rs12 a kg, radish Rs3 to Rs5 a kg and taro roots Rs40 to Rs43 a kg.

Prices of peas, turnips, ginger (Thai), lemons (native) and onionswere higher. Peas witnessed the highest increase of 55 percent in their price;the produce sold for Rs70 to Rs85 a kg. Turnips price was higher 33 percent increase and the vegetable sold for Rs8 a kg. The price of ginger (Thai) was 11 percent higher and it sold for Rs55 to Rs60 a kg.

Published in The Express Tribune, April 11th,  2016.
COMMENTS
Comments are moderated and generally will be posted if they are on-topic and not abusive.
For more information, please see our Comments FAQ