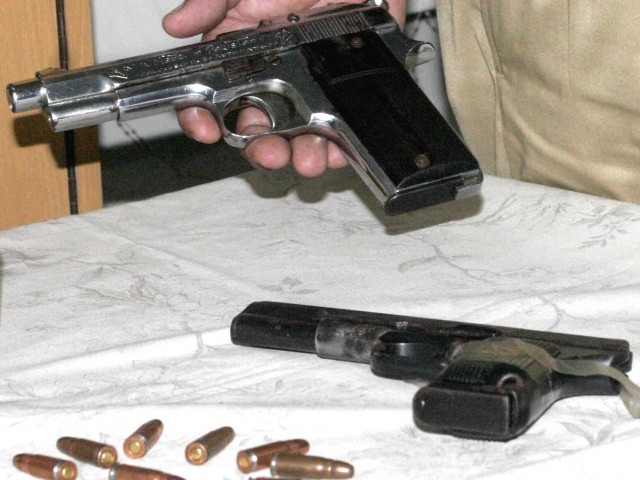 ---
LAHORE:



Horrified by recent terrorist attacks on Charsadda's Bacha Khan University, Peshawar's Army Public School and Lahore's Gulshan-i-Iqbal park citizens are clamouring for ways to keep themselves safe.




Although some have turned to firearms in the name of self-defence, others worry that widespread gun ownership is causing more problems than it is solving. School employees in Khyber Pakhtunkhwa (K-P) have persuaded the provincial government to issue them free firearm licences so they can stand in their classroom doorways as a final line of defence.

But some in Lahore say responding to violence by making gun ownership even more common can erode the very culture they hope to defend. "You make hell with good intentions," says Muhammad Zakria Zakar, a professor of sociology and an administrator at the Punjab University's Institute of Social and Cultural Studies. Zakar acknowledges that his own university decided this year to buy more firearms for guards on campus, but he says it's unlikely that the Punjab will follow K-P's lead and arm educators themselves. There are better ways to keep students safe, he says.

Meanwhile, as the military ramps up implementation of the National Action Plan to combat extremism, civil society can be inadvertently harmed by frequent depictions of firearms as tools the good guys use to defend the public against violence, Zakar says.

Above the law

Supreme Court Attorney Tipu Salman Makhdoom says Punjabi films have similarly portrayed armed heroes in a way that glorifies weapons. But many Lahoris are resisting the message and its classist implications, he says.

"When we in Lahore talk about gun culture, we say there are a group of powerful people, elites, who carry guns, who have guards who carry guns, and they show off, even illegally," Makhdoom says. "And you can't do anything about them," he says. One of the main reasons current policies aren't being adequately enforced is because people with power have been abusing their power, Makhdoom says.

Enforcement woes

Lahore police confiscated more guns last year than the year before, according to Operations DIG Haider Ashraf. They recovered over 10,000 weapons of different kinds, including rifles, guns and pistols, plus more than 221,000 bullets, he says. Furthermore, they registered 9,629 cases on charges of possessing weapons without a licence during 2014 and 2015, arresting 9,730 people, Ashraf says. When the government fully computerises its registry of firearm licences, it will become much easier to enforce gun laws, but existing regulations might not go far enough, he says.

Having a firearm makes it more likely you'll commit a crime, so private gun ownership should be strictly limited to those who have permission from the government to carry one, Ashraf says.

"Once we are able to control the weapons, we can curb street crime, murder, terrorism," the DIG says, "so I believe deweaponising society is the answer to a lot of what ails it." Whether deweaponisation is a feasible goal remains unclear.

For the time being, though, authorities will have to hold off on using the new computerised records system for strict enforcement efforts. Significant delays have plagued the transition, with some legal gun owners saying they've had a hard time updating the records.

A tumour with deep roots

Ahmad Awais, a former Lahore High Court Bar Association (LHCBA) president, says gun regulation is a political problem that needs a political solution. "The police are absolutely incompetent," Awais says. The attorney notes that military involvement of the West in the region over the past decades has contributed to Pakistan's enduring and convoluted gun problem. DIG Ashraf concedes that the poor public perception of the force can be considered as a reason behind why people feel the need to arm themselves. "Generally, people don't trust police...there's a big trust deficit," he says. Officials have been chipping away at that deficit, but the task will be no small feat, Ashraf adds. "We have faced the brunt of the Afghan war," he posits.

Published in The Express Tribune, April 11th,  2016.