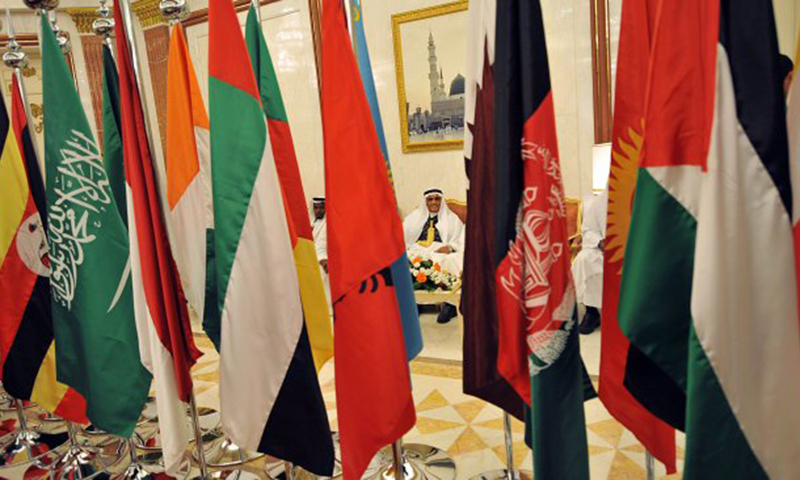 ---
ISTANBUL: The world's Islamic countries began their annual meeting Sunday in Istanbul, where they are set to focus on the Palestinian cause, conflicts in member states and combating terrorism.

The meeting of the 57-member Organisation of Islamic Cooperation (OIC) comes once again at a time of turmoil in many Muslim nations, with conflicts in Syria and Yemen dragging on, and several states including Turkey, bloodied by militant attacks.

Turkey suffering 'one of biggest terrorism waves in its history': Erdogan

The 13th annual OIC conference began with senior officials adopting the agenda and will be followed by a foreign ministers meeting on Tuesday and Wednesday. Over 30 heads of state and government will attend the summit hosted by President Recep Tayyip Erdogan on Thursday and Friday.

With guests set to include Saudi King Salman, the event is taking place under the highest security, with police stationed all around the venue in central Istanbul.

The OIC said the summit was to issue a resolution on the Palestinian issue and support for international efforts to relaunch a "collective political process".

The gathering comes at a time of rising Islamophobia in many western nations in response to a spate of attacks by the Islamic State group.

Islamic leaders will also "consider the situation of Muslim communities in non-OIC member States and the issue of combating terrorism."

Turkey has also been a victim of several bloody Islamic State attacks, and the Istanbul summit comes a day after the US warned of a "credible threat" of attacks in the city.

Under Erdogan, who has made Islam one of central themes of his politics, Turkey has upped its economic and political influence throughout the Islamic world, particularly in lands in the Middle East once part of the Ottoman Empire.

Turkey blames IS for Istanbul suicide blast

However this policy has has not always met with success and frosty relations with several Muslim states, including Egypt, have led some analysts to conclude its aim of "zero problems with neighbours" ended up having exactly the opposite effect.

In a speech on Saturday, Erdogan hailed the role Turkey has played by hosting nearly three million refugees from neighbouring Syria.

"In the world, there is no state, no country that is capable of assuming such a burden. The events this year that targeted us will not deflect us from this path," he said.

A big question mark hangs over the level of representation from Egypt, which has had strained ties with Turkey since the ousting of Ankara ally Mohamed Morsi in 2013.
COMMENTS
Comments are moderated and generally will be posted if they are on-topic and not abusive.
For more information, please see our Comments FAQ