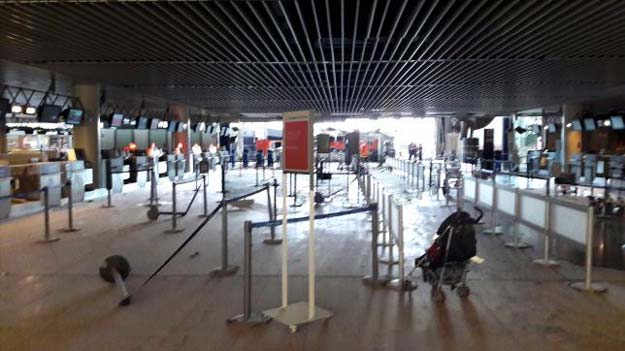 ---
BRUSSELS: The planners behind the March 22 bombings in Brussels which killed 32 people had initially planned to attack Paris but struck closer to home as investigators made arrests among key suspects, Belgian prosecutors said.

"Numerous elements in the investigation have shown that the terrorist group initially had the intention to strike in France again," Belgium's federal prosecutor said in a statement on Sunday.

Abrini arrest highlights Paris, Brussels attacks links

"Surprised by the speed of progress in the investigation, they took the decision to strike in Brussels," the statement added.

Paris attacks suspect Mohamed Abrini confessed Saturday to being "the man in the hat" caught on video with suicide bombers at Brussels airport last month, images that had sparked a massive manhunt.

"This is an important step forward," a source close to the investigation told AFP.

Abrini made the admission on the day he was charged with terrorist murders over the November attacks in Paris that left 130 people dead, prosecutors said.

Terror suspect Osama Krayem, a Swedish national, received the same charges over his role in a suicide bombing at a Brussels metro station on March 22, which occurred an hour after the airport blasts. A total of 32 people died in the coordinated attacks.

The latest arrests strengthened the theory that the same cell carried out both France and Belgium's worst ever terror outrages, claimed by the Islamic State group.

The pair were among six arrested in raids across Brussels on Friday. Two were later released but two others were charged with complicity for allegedly helping Abrini and Krayem.

According to a report in the Belgian daily L'Echo, not confirmed by prosecutors, Abrini confessed that he actually wanted to return to Paris for another attack but was spooked by the investigation and hastily decided to carry out the Brussels bombings.

German spy chief says Islamic State wants to attack but no firm plan known

The judge leading the Belgian investigation into the November 13 Paris attacks charged Abrini "with participation in the activities of a terrorist group and terrorist murders," the federal prosecutor's office said in a statement.

The Belgian of Moroccan origin was the last known Paris suspect still at large. He had been spotted on CCTV cameras at a petrol station north of Paris two days before the attacks there. In the car with him was fellow Paris attacks suspect Salah Abdeslam, who is now awaiting extradition from Belgium to France.

Prosecutors also confirmed Abrini's connection to the Brussels airport attack.

The 31-year-old "confessed his presence at the crime scene" when they confronted him with evidence, including footage of a mystery man in a hat and light-coloured jacket seen next to the two suicide attackers as they walked through the departure hall pushing trolleys loaded with bomb-filled bags.
COMMENTS
Comments are moderated and generally will be posted if they are on-topic and not abusive.
For more information, please see our Comments FAQ