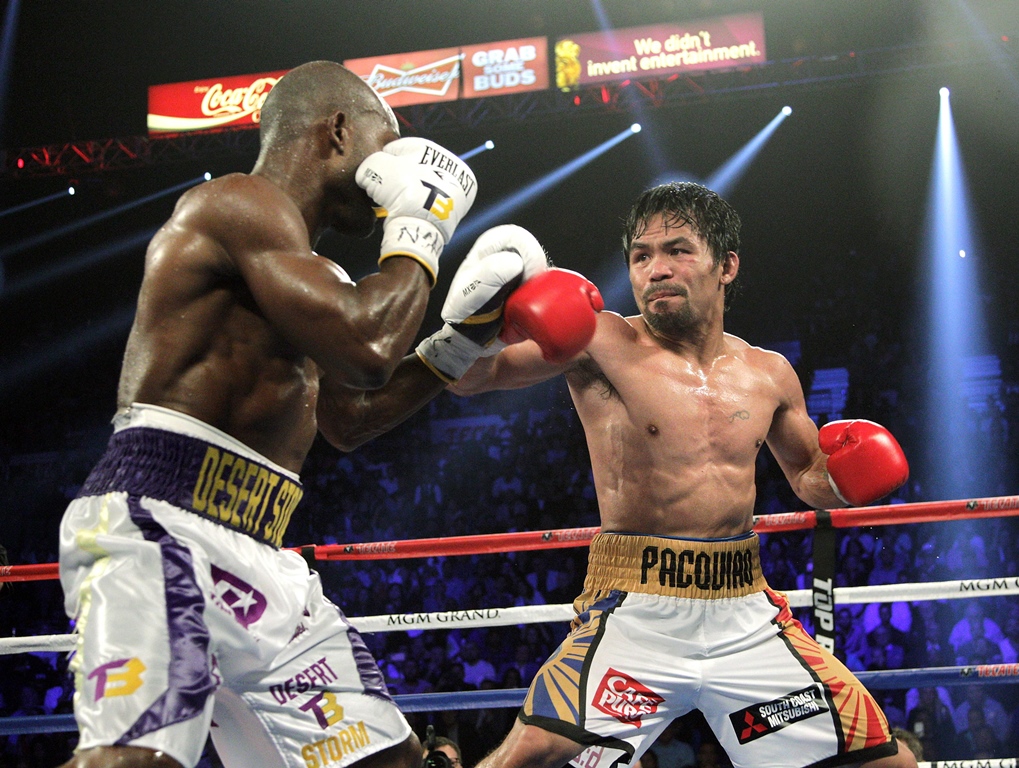 ---
LAS VEGAS, NEVADA: Manny Pacquiao scored an emphatic victory over American Tim Bradley here on Saturday, sealing his 21-year professional career with a vintage performance in his farewell to boxing.

Pacquiao, fighting for the first time since his defeat to Floyd Mayweather last May in the "Fight of the Century", knocked down Bradley twice on his way to a comfortable unanimous decision.

The judges' scorecards at the MGM Grand Garden Arena told the story of Pacquiao's dominance, with the 37-year-old eight-division world champion winning by identical margins of 116-110 on all three cards.

From $20 to $20 million, Pacquiao's journey to final payday

Pacquiao insists Saturday's bout -- the 66th of his career -- will be his final fight before he concentrates on his political career in the Philippines, where he is seeking election to the Senate next month.

Pacquiao had promised an explosive performance and was as good as his word for long periods, uncorking some trademark combinations to overwhelm Bradley.

A cagey opening round had the feel of a tactical battle, with Bradley carefully keeping his distance as he circled the marginally more aggressive Pacquiao, who threw 33 punches to Bradley's 19.

Pacquiao leaves door open to retirement U-turn

The next three rounds followed a similar pattern, with Pacquiao looking the more menacing fighter, relentlessly stalking Bradley around the canvas, cutting off angles, and connecting with more meaningful blows.

Bradley landed occasionally but it was Pacquiao who did the most damage, landing a straight left that caught his American rival flush on the chin in the second round.

Bradley started confidently in the fifth round but again his good work was undone by Pacquiao in the final minute when the Filipino uncorked a series of combinations to score heavily.

Philippine boxing great Pacquiao on political crusade

A weary Bradley returned to his corner to be admonished by his trainer Teddy Atlas, yelling "Are you kidding me?" at the 32-year-old as he attempted to raise his fighter for the later rounds.

But the template had been set for the next round, with Pacquiao producing flurries of counter-punching to take the round.

In the seventh, Pacquiao stretched his lead further, scoring a knockdown with a right hook to the chin that sent Bradley falling to the canvas.

Bradley responded bravely in the eighth however, wobbling Pacquiao with a left hook and backing up the Filipino relentlessly.

Yet Pacquiao's response in the ninth was emphatic, luring in Bradley and then tagging him with a left hook to wobble the American.

A further left hook sent Bradley down for the second time leaving Pacquiao with a commanding lead heading into the final three rounds.

Bradley attempted to pressure Pacquiao but the Filipino finished the stronger to coast home.