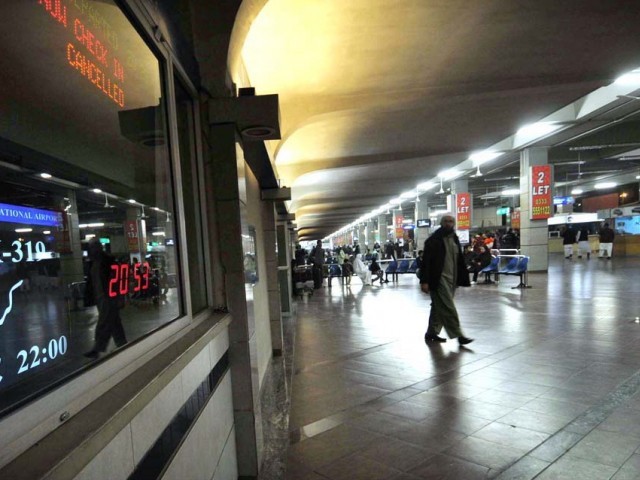 ---
ISLAMABAD:



The anti-human trafficking cell of the Federal Investigation Agency (FIA) detained 14 Pakistani deportees upon arrival at Benazir Bhutto International Airport in Islamabad late on Friday.




According to sources, they had been deported by Turkey, Australia, Greece and Saudi Arabia after their host countries found them lacking visas and for other related reasons.

Those who were flown into Pakistan from Turkey include Raja Dilawar of Abbottabad, Umair Razzaq of Gujrat, Asad Hussain of Gujrat, Ismail Khan of Rawalpindi, and Waqas Khan of Haripur, AJK.

Those who were deported from Australia included Sarfaraz Hussain of Kurram Agency, Ansar Hussain of Kurram Agency, Chaudhry Akash Rafiq Virk of Sheikhupura, Shair Hussain of Kurram Agency, and Hayatullah of Peshawar.

Four persons who had been deported from Greece included Shabbir Ali of Shekhupura, Rana Shehzad Ali of Lahore, Asif Imran of Gujrat, and Abdul Razzaq of Gujrat. The FIA also detained Zahid Iqbal, who had travelled to Greece in 2011 using forged documents under the name Abdul Razaq.

Meanwhile, two more men, one from Saudi Arabia and the other from China, were also arrested for trying to enter the country using forged Pakistani identify cards.

Both were initially branded as foreign nationals on verification of their IDs on arrival. They were later determined to be Pakistani nationals, but their identities were not disclosed by the authorities.

According to FIA sources, a whole network involved in making forged Pakistani documents was likely behind the later cases and the involvement of officials from the National Database and Registration Authority and the Passport Office could not be ruled out. The sources said that information gathered during interrogation of the suspects would help them break up the network.

Published in The Express Tribune, April 10th, 2016.