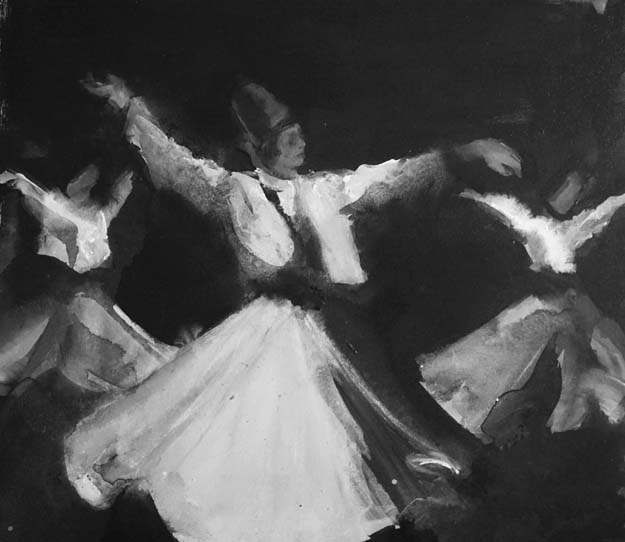 ---
KARACHI:



The Second International Sufi Conference, themed 'HU-The Inner Voice', brought to light the Sufi way of life, focusing on concepts of divinity, spirituality and trust.




The two-day conference kicked off at National Museum of Pakistan on Saturday. The event has been organised by culture and tourism department.

When Senate chairman Raza Rabbani was heading to the conference, he said that he was reminded of a story of Shaikh Abdul Aziz of Makkah. A man once approached Aziz with a request: he wanted to enter into a dialogue to make comparisons. Aziz sent the man a bottle along with oil, water and cotton wick. He also wrote him a letter which read, 'Dear friend, if you place the wick in oil first and then in water and apply fire, you will get no light. But, if you make place it in a mixture of oil and water and then apply fire, you will get a flutter. There is no need for a dialogue, when you can create comparisons with such simple materials'.

Illusion and Disillusion: 'Our Sufi heritage is in danger'

When different people decoded the symbolism of Aziz, it showed the path to attaining trust. "The bottle represented the body, the water represented the mind, and when the heart and the mind are in tune and in a state of meditation, it represents oil," he said. "The soul represents fire as it signifies that heart is the light of guidance to reach Allah. The purity of heart can show you the path to enlightenment."

'Haq Mojood'

The Sufi concept of God is based on Wahdatul Wajood [Oneness of Being], remarked folklorist Dr Uxi Mufti, who completed his PhD in philosophy and metaphysics from Charles University, Prague. In science, it means the oneness of everything or anything that exists.

He was speaking at the first session of the conference, titled 'Haq Mojood'. "The Sufi concept of God is the most scientific concept," he explained, adding that the concept is not given enough importance.

Haq Majood actually brings us to the realisation that haq [the truth] is both transcendent and eminent. Mojood means neither here nor there, said architect Kamil Khan.

'Me Raqsam'

Every other person who has a beard calls himself a Sufi, said Sindhi fiction writer and columnist Amar Jaleel. He was speaking at the second session of the conference, titled 'Me Raqsam'. In different religions, the high-level of strictness made the Sufis deviate because of their 'thoughts'. "Their thought was, what is impossible is impossible," he said, adding that the creation could never define its creator.

No matter how many names you give to the creator, there happens to be just one, he claimed. "Two men together cannot build this universe." He said that this was the beginning of the thinking of the original Sufis and for this reasons Sufis were tortured, but they claimed it was not possible for any human being to describe God.

Me Raqsam is a condition with thousands of faces, said Indian filmmaker Raja Muzafar Ali. One has to attach heartbeat with those faces. "Until you don't feel the faces of dance from inside and live it from inside, you cannot understand the dance," he said. According to him, the whole universe is dancing which only Sufis can feel.

Loyola University, Chicago, Islamic world studies director Prof Marcia K Hermansen and NJ Art London managing director Rosemary Anne James also spoke during the conference. 

Published in The Express Tribune, April 10th, 2016.
COMMENTS
Comments are moderated and generally will be posted if they are on-topic and not abusive.
For more information, please see our Comments FAQ