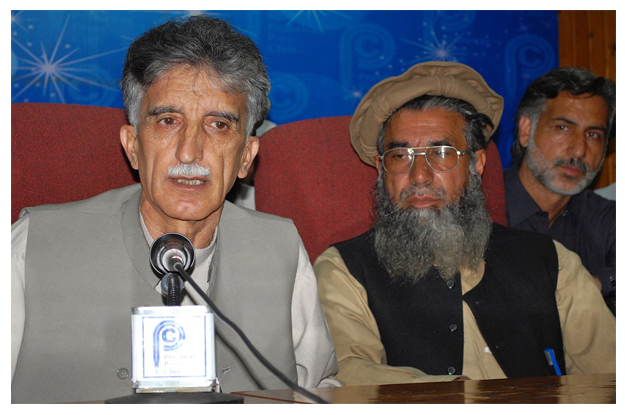 ---
HANGU/ PESHAWAR: The federal government and the National Highway Authority (NHA) has been urged to either commence construction work on Bahrain-Kalam Road or brace themselves for a demonstration in Islamabad.

This was said by Awami National Party MPA Syed Jaffar Shah during a news conference at Peshawar Press Club on Saturday.

Syed Jaffar demanded immediate construction work on the 32-kilometre road from Bahrain to Kalam.

He said funds were allocated for construction of this road on several occasions. However, work on the project has been slow.

He said the road has two parts—one is from Swat to Bahrain and the second from Bahrain to Kalam.

The ANP leader said Kalam Road has been constructed, while the road connecting Bahrain to Kalam was ravaged by heavy rain and floods.

"Tourists want to visit Kalam, but are reluctant because of accessibility issues," Syed Jaffar said. "Locals are cut off from other parts of the country and the hotel industry [has] suffered greatly as a result."

The MPA said they held a meeting with Senate Standing Committee for Communication.

"They ensured the matter would be taken up with the relevant authorities soon," Syed Jaffar said.

After this meeting, the government approved Rs480 million for the construction of the road, but work has not started.

"Prime Minister Nawaz Sharif also announced the construction of an expressway for the people of Kalam," he said. "But no practical steps have been taken for this purpose."

He said locals gave the relevant authorities a deadline of April 11 and the government published a tender for construction of the road.

"A sit-in will be held in Islamabad if the administration failed to construct the road," Syed Jaffar added.

Slammed for ignorance

Separately, former Awami National Party MPA Pir Haider Ali Shah slammed the provincial government for ignoring the trail of destruction caused by heavy rain in Khyber-Pakhtunkhwa.

He was speaking at a news conference in Hangu on Saturday. Pir Haider Ali said rains and landslides caused massive destruction in the province but the government and other political parties were more interested in Panama Leaks. "The Panama Leaks is an international matter and it should not distract them from [helping] the rain-affected people," he said. "More than 150 people died in the recent rains in K-P but PTI Chairperson Imran Khan did not visit the affected areas, deliver compensation or even listen to the victims' grief."

Pir Haider Ali added the government needs to pay attention to the affected areas and compensate victims.

Published in The Express Tribune, April 10th, 2016.