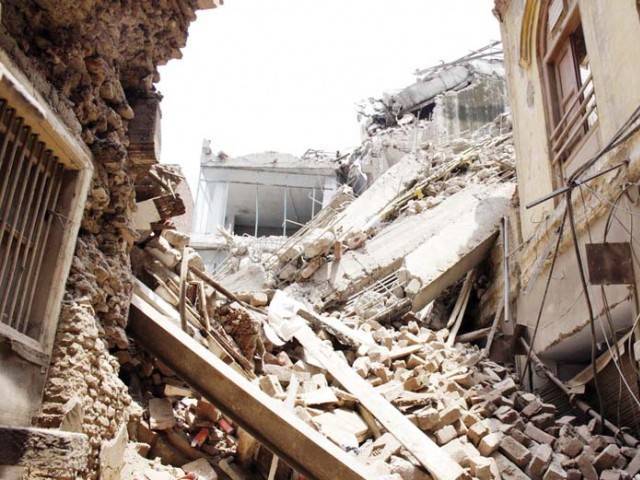 ---
MINGORA/ PARACHINAR/ MARDAN/ ALPURI: A woman was killed and three others were injured on Friday night when the roof of a house caved in due to rain in Tayeda area of Parachinar. The injured were rushed to the hospital.

On Friday night, Sana died and her brother, Musa, was injured as roof of their house collapsed due to rain in Mardan.

According to the Pakistan Meteorological Department, 44 millimetres of rain was recorded in Malam Jabba, 36mm in Cherat, 32mm in Upper Dir, 25mm in Parachinar and 21mm in Lower Dir.

The National Disaster Management Authority warned more rain and thunderstorms were expected in parts of Khyber-Pakhtunkhwa and northern Balochistan till Monday, April 11.

According to the PDMA spokesperson, Kohistan elders said 23 people died in their area.

Villagers in Shangla and Swat were evacuated to safer places on Saturday.

Persistent rain lashed parts of Malakand Division for a second day followed by snow in upper parts of the region. Routine life screeched to a grinding halt. Locals of Mingora reported they witnessed traffic gridlocks due to landslides along Bahrain, Mankyal and Kalam roads.

They also said the mercury plummeted as the weather became cold again and water levels rose in Swat River.

People living near the riverside started evacuating their houses and migrated to safer areas to prevent any loss or damage. However, the administration started working towards reopening the roads and increasing the flow of traffic.

Inhabitants of villages in the upper parts of Shangla were evacuated and shifted to safer places as casualties were feared as a result of landslides.

All roads leading to Shangla were closed by landslides. The locals reported that connecting bridges had not been opened for travel and locals lacked food items and medicines. However, there was no administration or authority to provide interim relief. They stated people were stranded by the floods and forced to live without shelter in Shangla.

Adviser to Prime Minister Ameer Muqam urged the provincial government and other departments to reopen closed highways and roads and repair electricity lines within 24 hours to alleviate the misery of residents. He was giving a briefing during his visit to Alpuri and Karora areas of Shangla.

Published in The Express Tribune, April 10th, 2016.
COMMENTS
Comments are moderated and generally will be posted if they are on-topic and not abusive.
For more information, please see our Comments FAQ