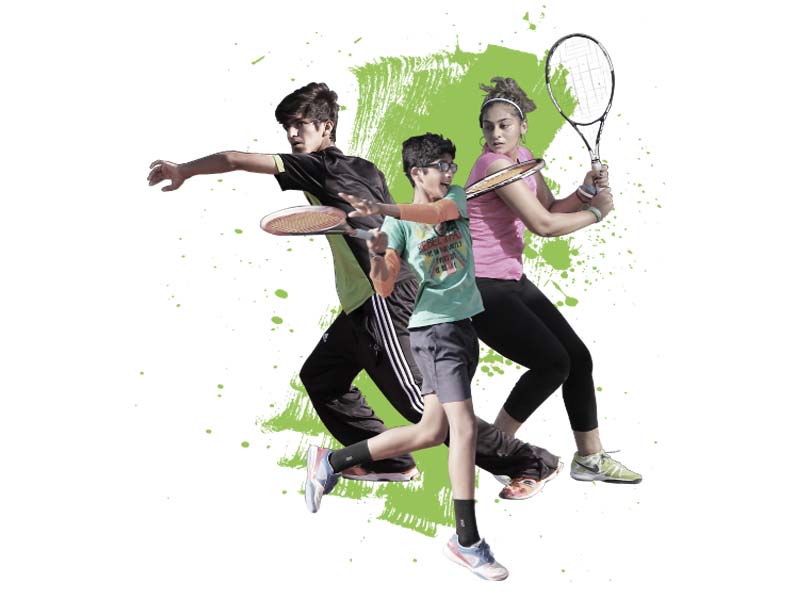 ---
KARACHI:

Abdul Samad, 11, and Hammad Khan, 10, have two things in common. They are both determined ballboy-turned-tennis-players who aspire to emulate world number one Novak Djokovic to an extent that they see their lankiness as a sign of thriving at the elite sport.

Aisam crashes out of Australian Open

Not raised with silver spoons, both have fought against all odds from a young age to carry on their passion for tennis — it is the only thing they have been exposed to since they started working as ballboys in different clubs to support their families.


Samad has travelled from Hyderabad — it is where he began his foray into tennis when his brother in-law took him to Hyderabad's only tennis court at the age of seven.

"I would work as the ballboy; I asked for it because I knew there was no other way I would get access to the game," Samad told The Express Tribune. "You see, my father is just an employee in Wapda. My parents usually support me but they told me that they can't help with the money. So being a ballboy was the best way to learn."

Davis Cup: Pakistan lose to China 3-0

Samad has been trying to make his way into the national circuit and in a year's time made appearances at major events such as the Asian Tennis Federation Super Series.

"I just want to be like Djokovic, one day I'll be one of the top players, I know, that's what I tell my family," says starry-eyed Samad, whose parents or sibling are clueless about the sport. "In fact, I began tennis because of the Serb. You know I would imitate him in the beginning till I got it right, however, my backhand needs improvement."

Consumed by Djokovic's performance, Samad said that he would watch every match that he could find on the television and later try to improvise on the strokes he had seen. Initially, with no access to the internet, he would wait for the grand slams to begin just to be able to learn some more from his favourite player.

Davis Cup: Aqeel confident despite China's 2-0 lead

"In Hyderabad, tennis isn't much of a sport," said Samad. "Very few people even notice it. There weren't many people to teach me techniques either, so I'd just follow all the four grand slams that would be aired on television. I know my game resembles Djokovic's. I think my physique is a bit like his as well. I just need to grow taller," he joked.

Samad's prayers were answered when former Davis Cupper and coach Jalil Khan took him under his wing to train him in Karachi at the Modern Club.

According to Jalil, since there are no academies, the national players try to coach children coming from humble backgrounds.

"He has the potential to excel [at the sport], as do so many other young players who hail from impoverished backgrounds because they have nothing else in their lives but tennis. The players coming from well-off families still have a choice and schools to think about, but players like Samad are extremely dedicated. They would stick to tennis in the long run. We need to invest in this," said Jalil.

On the other hand, Hammad plays in the U11 category at local tournaments in Karachi, while he lives in Azam Basti and works at the Sindh Club. He does not go to school but tries to make up for his studies by going for private tuitions.

Sporting activities: Tennis academy opens doors to women

"I don't go to school because I have a job," said the perky 10-year-old. "But I want to be a good player. I watch the matches when Djokovic is playing [Swiss legend] Roger Federer. That is how I want to play too."

Hammad gets nominal wage for working as a ballboy, but he feels that playing the tournaments is the only way to move forward.

"I train whenever I can," he added.

Pros impressed by young talent

According to Yasir Khan, Pakistan's number two singles player, the new talent is exciting as he managed to watch a game played between the juniors.

"I think it was Samad's match," said Yasir. "I was waiting for them to finish so I could begin mine. I was impressed with their technique and their understanding of the shots."

Yasir added that a key factor is making sure that the children are getting all the facilities that only the academies can provide.

"These children are hardworking and motivated, but they need a proper diet. They are weak for their age, that is a concern," said Yasir.

"However, things are changing," says Pakistan Tennis Federation  Secretary Khalid Rehmani. "The forum is mainly for youngsters as they do not have to pay the tournament's entry fee and get daily allowances for competing at an event, their travel expenses are also covered if they are playing in another city. We try to accommodate them as much as we can but we admit that there is more work to be done."

Published in The Express Tribune, April 10th, 2016.

Like Sports on Facebook, follow @ETribuneSports on Twitter to stay informed and join in the conversation.